Volvo XC90: Seats and steering wheel / Adjusting the second row head restraints
Adjust the center seat's head restraint to suit the height of the passenger.1 Fold down the outer seats' head restraints* to improve rear visibility.
Adjusting the center head restraint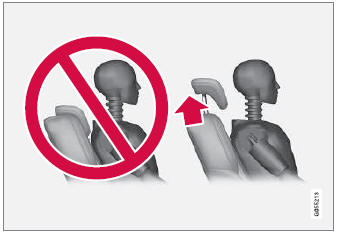 The center head restraint should be adjusted to suit the passenger's height. The entire back of the head should be covered if possible. Manually move the restraint up or down as needed.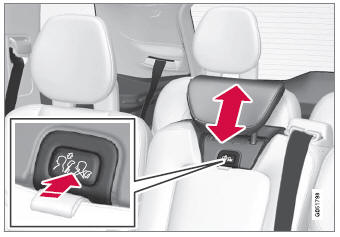 To lower the restraint, press and hold the button (located between the backrest and the head restraint, see illustration) while carefully lowering the head restraint.
WARNING
The center seat head restraint must be in its lowest position when the seat is not occupied. When the center seat is occupied, the head restraint must be correctly adjusted to the passenger's height, covering the entire back of the head if possible.
Electrically folding down the rear seat's outboard head restraints*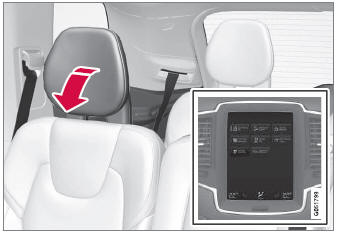 The outer head restraints can be folded via the center display's function view. The head restraint can be folded down when the vehicle is in ignition mode 0.

Tap the Headrest Fold button to activate/deactivate folding.
Manually push the head restraint until it clicks into position.
WARNING
Do not lower the head restraint if there are passengers in any of the rear seats.
WARNING
The head restraint must be locked in the upright position after it has been folded up.
WARNING
The head restraints on the outboard second- row seats must always be folded up when there are passengers in the third row of seats*.
1 In vehicles with four or six seats, there is no center seat.
* Option/accessory.
The backrests can be folded down separately. WARNING Adjust the seat and ensure it locks into position before driving. Use caution when adjusting the seat...
(Option/accessory) In vehicles with 6 or 7 seats*, the seats in the second row can be moved forward or rearward individually to help adapt legroom for passengers in the second and third rows...
Other information:
The antennas for the keyless start system and keyless locking system* are integrated in the vehicle. Location of the antennas: Under the cup holder in the front section of the tunnel console In the upper front section of the left-side rear door1 In the upper front section of the right-side rear door1 In the center of the rear seat backrest1 WARNING Individuals with an implanted pacemaker ..
Pair a Bluetooth-enabled phone to the vehicle to make calls, send/receive text messages and wirelessly play media from the vehicle, or connect the vehicle to the Internet. Two Bluetooth devices can be connected at the same time, but in that case, only one will be used for wireless playback. The most recently paired phone will be automatically connected to make calls, send/receive text messages..