Volvo XC90: Wheels and tires / Jack
(Option/accessory.)
The jack can be used to lift the vehicle to e.g. change a wheel.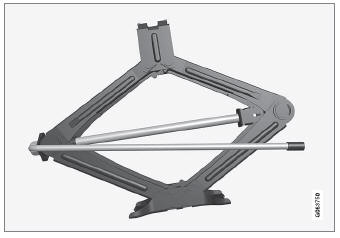 CAUTION
When not in use, the jack* should be kept in its storage compartment under the cargo compartment floor.
The jack provided with your vehicle is intended to be used only in temporary situations such as changing wheels in the event of a flat tire. Only the jack that came with your particular model should be used to lift the vehicle. If the vehicle needs to be lifted more frequently or for a prolonged period, using a garage jack or hoist is recommended. Always follow this device's instructions for use.
The jack needs to be cranked together to the correct position in order to fit.
For vehicles with Leveling Control*: If the vehicle is equipped with the optional pneumatic suspension, it must be turned off before the vehicle is lifted on a jack.
* Option/accessory.