Volvo XC90: Wheels and tires / Tool kit
Tools for e.g. towing or changing wheels are provided in the vehicle's cargo compartment.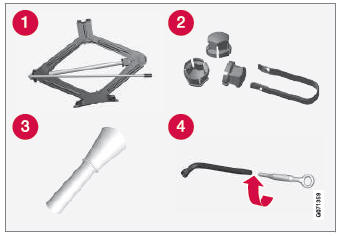 All the tools are located in a foam block under the cargo compartment floor.

Jack*

Tool for removing the plastic wheel bolt covers

Funnel for refilling fluids

Wheel bolt key* and towing eyelet
If the vehicle is equipped with a spare tire*1, a jack and lug wrench are provided.
1 Not available on all models.
* Option/accessory.