Volvo XC90: Lighting / Front fog lights/corner illumination
(Option/accessory)
The fog lights can be activated manually when driving in fog and are activated automatically when backing up to help augment the backup light.
If the vehicle is equipped with corner illumination *, the fog lights are activated automatically in weak daylight or dark conditions to illuminate the area diagonally in front of the vehicle.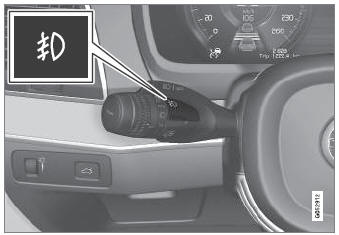 Front fog lights button.
The front fog lights can be turned on when the ignition is in mode II and the lighting ring is in position
,

or

.
Tap the button to activate or deactivate the function. The

symbol in the instrument panel comes on when the front fog lights are on.
The front fog lights turn off automatically when the ignition is switched off or when the lighting ring is in

position .
NOTE
Regulations concerning fog light use vary from country to country.
Cornering illumination*
The front fog lamps can include the cornering lights function, which temporarily illuminates the area diagonally in front of the car in the direction the steering wheel is turned on a sharp bend, or in the direction shown by the direction indicators.
The function is activated in weak daylight or dark conditions when the lighting ring is in

or

mode and the vehicle speed is less than about 30 km/h (about 20 mph).
Both cornering illumination are also illuminated as a complement to the taillights when reversing.
The function is activated as the default factory setting and can be activated and deactivated using the center display.
* Option/accessory.
Active Bending Lights (ABL) are designed to help provide extra illumination in curves and intersections. Depending on equipment level, vehicles with LED1 headlights* may be equipped with Active Bending Lights...
The rear fog light is considerably brighter than ordinary taillights and should only be used to help other road users see the vehicle when visibility is reduced by conditions such as fog, snow, smoke or dust...
Other information:
Some of the exterior lights remain on to illuminate the area around the vehicle. This is called home safe lighting. To activate home safe lighting: Switch off the ignition. Push the left-side steering wheel lever toward the dashboard and release. Exit the vehicle and lock the doors...
The overviews show the location of the vehicle's displays and controls. Steering wheel and dashboard Parking lights, daytime running lights, low beams, high beams, turn signals, front fog lights/cornering illumination * , rear fog light, trip computer reset Steering wheel paddles for manual shifting * Head-up display * Instrument panel Wipers and washers, rain sensor * Right-side steeri..