Volvo XC90: Displays and voice control / Resetting the trip odometer
Resetting the trip odometer using the leftside steering wheel lever.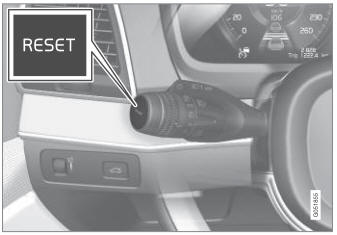 The TA trip odometer can not be manually reset. It resets automatically if the vehicle is not used for four hours or more.
Data recorded and calculated by the trip computer can be displayed on the instrument panel. This data is stored in a trip computer app. You can choose which information the instrument panel will display in the app menu...
Trip computer statistics can be displayed graphically in the center display, providing an overview that facilitates more fuel-efficient driving. Open the Driver performance app in the App view to display trip statistics...
Other information:
The vehicle's exterior lighting consists of several different bulbs. LED1 bulbs must be replaced by a workshop. An authorized Volvo workshop is recommended. Front bulbs (vehicles with halogen headlights) Low beams High beams Daytime running light/parking light Turn signal Front fog light/cornering illumination* (LED) Rear bulbs Brake light (LED) Parking light (LED) Backup light2 Parki..
Suitable child restraints should always be used when children (depending on their age/size) are seated in the vehicle. Securing a convertible seat with a seat belt Do not place the convertible seat in the front passenger's seat. Convertible seats can be used in either a forward or rearward-facing position, depending on the age and size of the child. Route the seat belt through the convertible..