Volvo XC90: Displays and voice control / Displaying trip data in the instrument panel
Data recorded and calculated by the trip computer can be displayed on the instrument panel.
This data is stored in a trip computer app. You can choose which information the instrument panel will display in the app menu.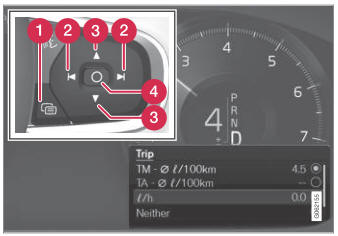 Open and navigate in the app menu1 using the righthand steering wheel keypad.

App menu

Left/right

Up/down

Confirm
Open the app menu in the instrument panel by pressing (1).

(The App menu cannot be opened while there is an unacknowledged message in the instrument panel. The message must be acknowledged by pressing the O button (4) before the App menu can be opened).

Navigate to the trip computer app by mov- ing left or right using (2).

The top four menu rows show measured values for trip odometer TM. The next four menu rows show measured values for trip odometer TA. Scroll up or down in the list using (3).

Scroll down to the option buttons to choose which information to show in the instrument panel:

Odometer
Distance to empty tank
Tourist (alternative speedometer)
Mileage for trip odometer TM, TA or no display of mileage
Current fuel consumption, average fuel consumption for TM or TA, or no display of fuel consumption

Select or clear a selection using the O button (4). The change will apply immediately.
1 The illustration is generic - details may vary according to vehicle model.
The vehicle's trip computer registers data while driving such as mileage, fuel consumption and average speed. To help promote fuel-efficient driving, data is recorded on both current and average fuel consumption...
Resetting the trip odometer using the leftside steering wheel lever. Reset all information in trip odometer TM (i.e. mileage, average fuel consumption, average speed and driving time) by pressing and holding the RESET button on the left-hand steering wheel lever...
Other information:
A number of symbols and messages related to Electronic Stability Control (ESC1) may be displayed in the instrument panel. Several examples are provided below. A text message can be erased by briefly pressing the button in the center of the rightside steering wheel keypad...
This section refers to transporting the vehicle with a tow truck or similar vehicle. Call a professional towing service for assistance. In certain conditions, the towing eyelet can be used to pull the vehicle onto a flatbed tow truck. For vehicles equipped with leveling control *: If the vehicle is equipped with pneumatic suspension, this feature must be turned off before the vehicle is lifted..