Volvo XC90: Lighting / Lighting control and panel
The lighting panel and controls can be used to adjust both exterior and interior lighting. The lighting ring on the left-side steering wheel lever can be used to activate and adjust the exterior lighting. The brightness of the interior lighting can be adjusted using the thumb wheel on the dashboard.
Exterior lighting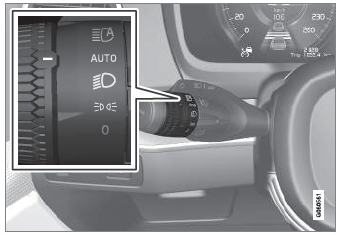 Lighting ring position.
When the vehicle's ignition is in mode II, the lighting ring positions have the following functions: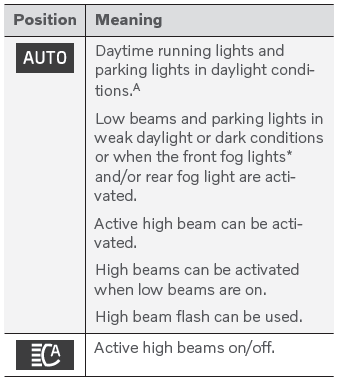 A US models only: Daytime running lights and parking lights can be deactivated in the center display.
NOTE
Volvo recommends use of Daytime Running Lights in the US. Its use is mandatory in Canada.
Volvo recommends using position

when the vehicle is in motion.
WARNING
The vehicle lighting system cannot in all situations determine when the daylight is too weak or not strong enough, e.g. when there is fog or rain.
The driver is always responsible for driving the vehicle with lighting that is safe for the traffic conditions and as specified by applicable traffic regulations.
Thumbwheel in instrument panel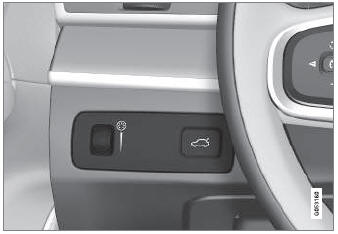 Thumb wheel (to the left) for adjusting interior brightness.
* Option/accessory.
A number of light functions can be adjusted and activated via the center display. These include active high beams, home safe lighting and approach lighting...
Other information:
Several different sequences are available for remote unlocking. To change this setting: Tap Settings in the center display's Top view. Tap My Car Locking Remote and Interior Unlock. Select alternative: All Doors – unlocks all doors at the same time...
Data sharing for relevant services and apps can be set via the Settings menu in the center display. Tap Settings in the center display's Top view. Tap System Privacy and data. Select to activate or deactivate data sharing for individual services and all apps...