Volvo XC90: Lighting / Lighting control and panel
The lighting panel and controls can be used to adjust both exterior and interior lighting. The lighting ring on the left-side steering wheel lever can be used to activate and adjust the exterior lighting. The brightness of the interior lighting can be adjusted using the thumb wheel on the dashboard.
Exterior lighting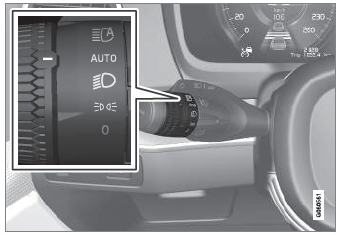 Lighting ring position.
When the vehicle's ignition is in mode II, the lighting ring positions have the following functions: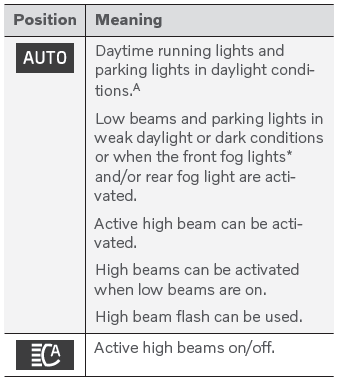 A US models only: Daytime running lights and parking lights can be deactivated in the center display.
NOTE
Volvo recommends use of Daytime Running Lights in the US. Its use is mandatory in Canada.
Volvo recommends using position

when the vehicle is in motion.
WARNING
The vehicle lighting system cannot in all situations determine when the daylight is too weak or not strong enough, e.g. when there is fog or rain.
The driver is always responsible for driving the vehicle with lighting that is safe for the traffic conditions and as specified by applicable traffic regulations.
Thumbwheel in instrument panel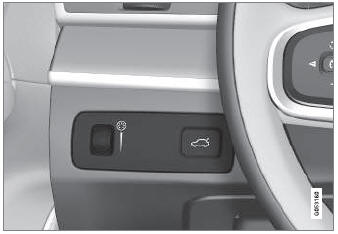 Thumb wheel (to the left) for adjusting interior brightness.
* Option/accessory.
A number of light functions can be adjusted and activated via the center display. These include active high beams, home safe lighting and approach lighting...
Other information:
High beam is operated via the left-hand steering wheel lever. High beam is the vehicle's strongest lighting and should be used when driving in dark conditions, provided it does not blind other road users, to improve visibility. Steering wheel lever with lighting ring...
The brake pedal is used to apply the vehicle's regular brakes, which are part of the brake system. The vehicle is equipped with two brake circuits. If one brake circuit is damaged, the brake pedal may go down further when depressed. More pressure will then be required from the driver for normal braking effect...