Volvo XC90: Maintenance and service / Filling washer fluid
Washer fluid is used to keep the headlights, windshield and rear window clean. Washer fluid containing anti-freeze should be used in very cold weather (below-freezing temperatures).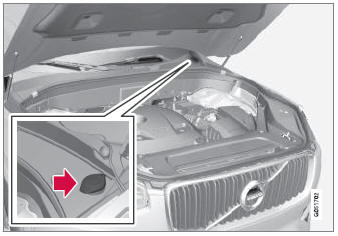 Fill washer fluid into the reservoir with the blue cover. The reservoir is used for the windshield washer, tailgate window washer and headlight washer*.
NOTE
When there is approximately 1 liter (1 qt) of washer fluid remaining, the message Washer fluid Level low, refill and the

symbol will be displayed in the instrument panel.
Recommended grade: Washer fluid recommended by Volvo, with frost protection during cold weather and temperatures below the freezing point.
CAUTION
Use Volvo's original washer fluid or an equivalent fluid with the recommended pH value between 6 and 8, diluted as recommended, e.g. in a 1:1 solution with pH-neutral water.
CAUTION
Use washer fluid with anti-freeze when temperatures are below the freezing point to help keep the pump, reservoir and hoses from freezing.
Volume:
Vehicles with headlight washing: 5.5 liters (5.8 qts).
Vehicles without headlight washing: 3.5 liters (3.7 qts).
* Option/accessory.
The windshield wiper blades must be in the service (vertical) position for certain operations, e.g. replacing the blades. Windshield wipers in the service position...
Other information:
The center display's Settings menu has a number of main categories and sub-categories that contain settings and information for many of the vehicle's features and functions. There are seven main categories: My Car, Sound, Navigation, Media, Communication, Climate and System. Each category, in turn, contains a number of sub-categories and possible settings. The table below shows the first level ..
If you haven't activated data sharing for a connected service or for downloaded apps, you can do this when you start them in your center display. The first time that you start a service, or e.g. after a factory reset or certain software updates, you will also need to accept Volvo's terms and conditions for connected services. Enabling data sharing when starting a service Select the function o..