Volvo XC90: Maintenance and service / Filling washer fluid
Washer fluid is used to keep the headlights, windshield and rear window clean. Washer fluid containing anti-freeze should be used in very cold weather (below-freezing temperatures).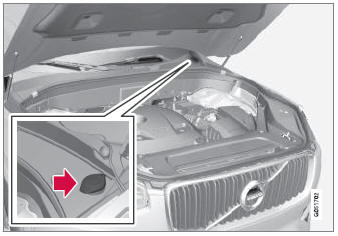 Fill washer fluid into the reservoir with the blue cover. The reservoir is used for the windshield washer, tailgate window washer and headlight washer*.
NOTE
When there is approximately 1 liter (1 qt) of washer fluid remaining, the message Washer fluid Level low, refill and the

symbol will be displayed in the instrument panel.
Recommended grade: Washer fluid recommended by Volvo, with frost protection during cold weather and temperatures below the freezing point.
CAUTION
Use Volvo's original washer fluid or an equivalent fluid with the recommended pH value between 6 and 8, diluted as recommended, e.g. in a 1:1 solution with pH-neutral water.
CAUTION
Use washer fluid with anti-freeze when temperatures are below the freezing point to help keep the pump, reservoir and hoses from freezing.
Volume:
Vehicles with headlight washing: 5.5 liters (5.8 qts).
Vehicles without headlight washing: 3.5 liters (3.7 qts).
* Option/accessory.
The windshield wiper blades must be in the service (vertical) position for certain operations, e.g. replacing the blades. Windshield wipers in the service position...
Other information:
The function of the tires is to carry loads, provide traction on r oad surfaces, reduce vibrations and protect the wheels from wear. The tires significantly influence the vehicle's driving characteristics. The type, dimensions, tire pressure and speed rating have a considerable impact on how the vehicle performs. Your vehicle is equipped with tires according to the vehicle's tire informat..
(Depending on market, this function can be either standard or optional.) Adaptive Cruise Control (ACC1) can help the driver to maintain a constant speed, combined with a preset time interval to the vehicle in front. The camera/radar sensor measures the distance to the vehicle ahead. Adaptive Cruise Control can help provide a more relaxed driving experience on long trips on highways or long, st..