Volvo XC90: Maintenance and service / Filling washer fluid
Washer fluid is used to keep the headlights, windshield and rear window clean. Washer fluid containing anti-freeze should be used in very cold weather (below-freezing temperatures).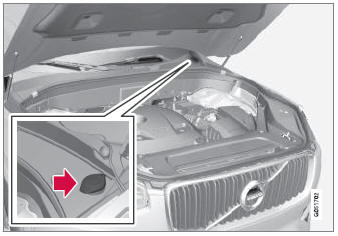 Fill washer fluid into the reservoir with the blue cover. The reservoir is used for the windshield washer, tailgate window washer and headlight washer*.
NOTE
When there is approximately 1 liter (1 qt) of washer fluid remaining, the message Washer fluid Level low, refill and the

symbol will be displayed in the instrument panel.
Recommended grade: Washer fluid recommended by Volvo, with frost protection during cold weather and temperatures below the freezing point.
CAUTION
Use Volvo's original washer fluid or an equivalent fluid with the recommended pH value between 6 and 8, diluted as recommended, e.g. in a 1:1 solution with pH-neutral water.
CAUTION
Use washer fluid with anti-freeze when temperatures are below the freezing point to help keep the pump, reservoir and hoses from freezing.
Volume:
Vehicles with headlight washing: 5.5 liters (5.8 qts).
Vehicles without headlight washing: 3.5 liters (3.7 qts).
* Option/accessory.
The windshield wiper blades must be in the service (vertical) position for certain operations, e.g. replacing the blades. Windshield wipers in the service position...
Other information:
(Option/accessory.) Settings for Android devices initially connected with Android Auto1. Automatic start Tap Settings in the Top view. Tap Communication Android Auto and select setting: Check the box - Android Auto will start automatically when the USB cable is connected. Uncheck the box - Android Auto will not start automatically when the USB cable is connected. A maximum of ..
In order to play media, the following file formats must be used. Audio files Video files Subtitles DivX® DivX-certified devices have been tested for high-quality DivX (.divx, .avi) video playback. When you see the DivX logo, you have the freedom to play your favorite DivX videos. ..