Volvo XC90: Maintenance and service / Filling washer fluid
Washer fluid is used to keep the headlights, windshield and rear window clean. Washer fluid containing anti-freeze should be used in very cold weather (below-freezing temperatures).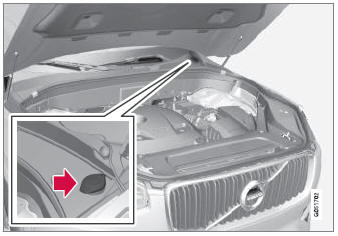 Fill washer fluid into the reservoir with the blue cover. The reservoir is used for the windshield washer, tailgate window washer and headlight washer*.
NOTE
When there is approximately 1 liter (1 qt) of washer fluid remaining, the message Washer fluid Level low, refill and the

symbol will be displayed in the instrument panel.
Recommended grade: Washer fluid recommended by Volvo, with frost protection during cold weather and temperatures below the freezing point.
CAUTION
Use Volvo's original washer fluid or an equivalent fluid with the recommended pH value between 6 and 8, diluted as recommended, e.g. in a 1:1 solution with pH-neutral water.
CAUTION
Use washer fluid with anti-freeze when temperatures are below the freezing point to help keep the pump, reservoir and hoses from freezing.
Volume:
Vehicles with headlight washing: 5.5 liters (5.8 qts).
Vehicles without headlight washing: 3.5 liters (3.7 qts).
* Option/accessory.
The windshield wiper blades must be in the service (vertical) position for certain operations, e.g. replacing the blades. Windshield wipers in the service position...
Other information:
(Option/accessory) The CleanZone function monitors the conditions affecting good air quality in the passenger compartment and indicates whether they are fulfilled or not. The indicator is shown in the center display's Climate view. The indicator is shown in the climate bar when Climate view is not open. If the conditions are not met, the text Clean Zone will be shown in white. When all the ..
Driver support systems The vehicle is equipped with a number of driver support systems that can provide the driver with active or passive assistance in various situations. The systems can, for example, help the driver: maintain a set speed maintain a set time interval to the vehicle ahead help prevent a collision by warning the driver and applying the brakes park the vehic..