Volvo XC90: Maintenance and service / Filling washer fluid
Washer fluid is used to keep the headlights, windshield and rear window clean. Washer fluid containing anti-freeze should be used in very cold weather (below-freezing temperatures).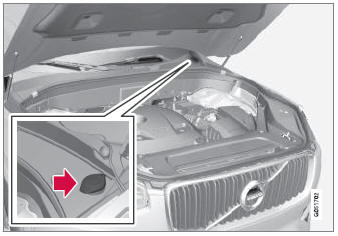 Fill washer fluid into the reservoir with the blue cover. The reservoir is used for the windshield washer, tailgate window washer and headlight washer*.
NOTE
When there is approximately 1 liter (1 qt) of washer fluid remaining, the message Washer fluid Level low, refill and the

symbol will be displayed in the instrument panel.
Recommended grade: Washer fluid recommended by Volvo, with frost protection during cold weather and temperatures below the freezing point.
CAUTION
Use Volvo's original washer fluid or an equivalent fluid with the recommended pH value between 6 and 8, diluted as recommended, e.g. in a 1:1 solution with pH-neutral water.
CAUTION
Use washer fluid with anti-freeze when temperatures are below the freezing point to help keep the pump, reservoir and hoses from freezing.
Volume:
Vehicles with headlight washing: 5.5 liters (5.8 qts).
Vehicles without headlight washing: 3.5 liters (3.7 qts).
* Option/accessory.
The windshield wiper blades must be in the service (vertical) position for certain operations, e.g. replacing the blades. Windshield wipers in the service position...
Other information:
(Option/accessory.) (Depending on market, this function can be either standard or optional.) Pilot Assist can help the driver keep the vehicle in the current traffic lane and maintain an even speed and a set time interval to the vehicle ahead. Get to know Pilot Assist The camera/radar sensor monitors the distance to the vehicle ahead and detects lane markings. Camera and radar sensor Distance..
(Option/accessory.) Adaptive Cruise Control (ACC1) may have limited functionality in certain situations. Steep roads and/or heavy loads Adaptive Cruise Control is primarily intended to be driven on flat roads. The function may not be able to maintain the correct time interval to the vehicle ahead when driving down steep hills. The driver should be extra attentive and prepared to apply the brak..