Volvo XC90: Key, locks and alarm / Activating and deactivating child locks
The child locks help prevent the rear doors from being able to be opened from the inside. The child lock can be either manual or electric*.
Manual child lock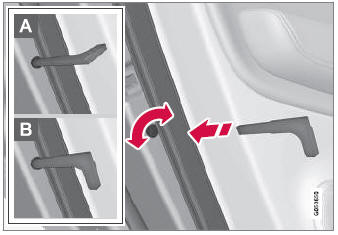 Manual child lock. This is not the manual door lock.
Use the detachable key blade in the remote key to turn the control.

The door cannot be opened from the inside.

The door can be opened from both the outside and the inside.
NOTE
The door's knob control only locks that specific door, not both rear doors simultaneously.
There are no manual child locks on models equipped with electronic child locks.
Electric child lock*
The electric child lock can be activated and deactivated in any ignition mode higher than 0. The lock can be activated and deactivated up to 2 minutes after the ignition is turned off if no door has been opened.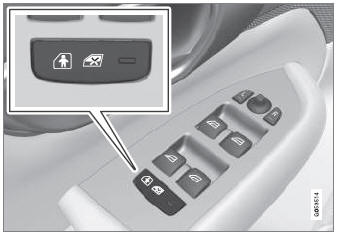 Button for activation and deactivation.
Light on – lock is activated.
Light off – lock is deactivated.
When the child lock is activated, the rear:
windows can only be opened using the buttons in the driver's door.
the rear doors cannot be opened from the inside.
If the child lock is activated when the vehicle is switched off, it will remain activated the next time the vehicle is started.
Symbols and messages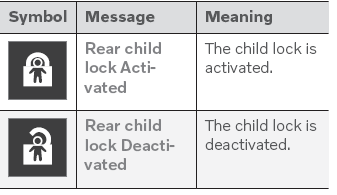 * Option/accessory.
Automatic locking when driving
The doors and tailgate will automatically lock when the vehicle begins to move.
The tailgate can be unlocked from the inside using the button on the dashboard. Press the button on the dashboard. The tailgate will unlock and can be opened from the outside by pressing the rubberized button on the handle...
(Option/accessory). The buttons on the underside of the tailgate can be used to close and lock the vehicle automatically. Location of button(s) on underside of tailgate CAUTION When operating the tailgate manually, open and close it slowly...
Other information:
Information on vehicles with activated hazard warning flashers or which have detected slippery road conditions is not always communicated between all vehicles in the affected area. This may be the case if: No or insufficient Internet connection. The maneuvers (steering wheel movements, acceleration or braking) made by the vehicles on slippery surfaces are too weak for friction between the t..
It may be necessary to drive the vehicle through standing water e.g. deep puddles or flooding on the road. This must be done with great caution. The vehicle can be driven through water up to a depth of 45 cm (17 in) at no more than walking speed. Be particularly careful when driving through flowing water. When driving through standing water, drive slowly and do not stop the vehicle. When you ha..