Volvo XC90: Key, locks and alarm / Activating and deactivating child locks
The child locks help prevent the rear doors from being able to be opened from the inside. The child lock can be either manual or electric*.
Manual child lock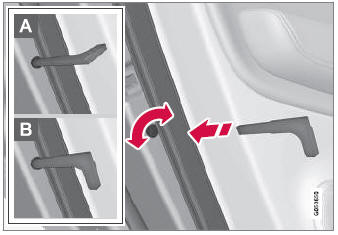 Manual child lock. This is not the manual door lock.
Use the detachable key blade in the remote key to turn the control.

The door cannot be opened from the inside.

The door can be opened from both the outside and the inside.
NOTE
The door's knob control only locks that specific door, not both rear doors simultaneously.
There are no manual child locks on models equipped with electronic child locks.
Electric child lock*
The electric child lock can be activated and deactivated in any ignition mode higher than 0. The lock can be activated and deactivated up to 2 minutes after the ignition is turned off if no door has been opened.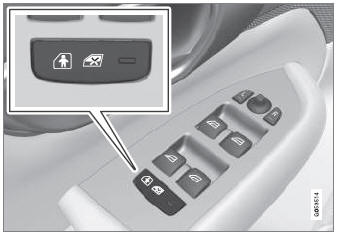 Button for activation and deactivation.
Light on – lock is activated.
Light off – lock is deactivated.
When the child lock is activated, the rear:
windows can only be opened using the buttons in the driver's door.
the rear doors cannot be opened from the inside.
If the child lock is activated when the vehicle is switched off, it will remain activated the next time the vehicle is started.
Symbols and messages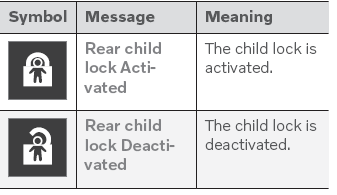 * Option/accessory.
Automatic locking when driving
The doors and tailgate will automatically lock when the vehicle begins to move.
The tailgate can be unlocked from the inside using the button on the dashboard. Press the button on the dashboard. The tailgate will unlock and can be opened from the outside by pressing the rubberized button on the handle...
(Option/accessory). The buttons on the underside of the tailgate can be used to close and lock the vehicle automatically. Location of button(s) on underside of tailgate CAUTION When operating the tailgate manually, open and close it slowly...
Other information:
Use the following contact information if you would like to get in touch with Volvo in the United States or Canada. In the USA: Volvo Car USA, LLC Customer Care Center 1 Volvo Drive, P.O. Box 914 Rockleigh, New Jersey 07647 1-800-458-1552 volvocars.com/us In Canada: Volvo Car Canada Ltd...
The overviews show the location of the vehicle's displays and controls. Steering wheel and dashboard Parking lights, daytime running lights, low beams, high beams, turn signals, front fog lights/cornering illumination * , rear fog light, trip computer reset Steering wheel paddles for manual shifting * Head-up display * Instrument panel Wipers and washers, rain sensor * Right-side steeri..