Volvo XC90: Specifications / Dimensions
The vehicle's length, height, etc. are shown in the table.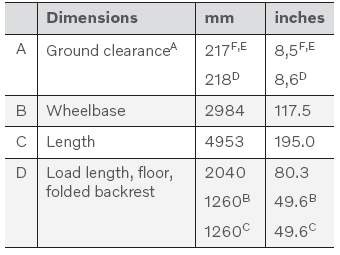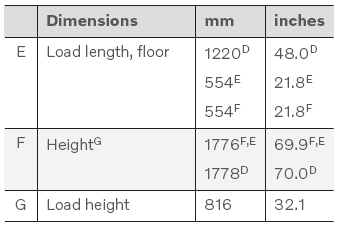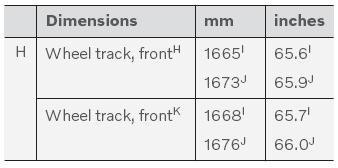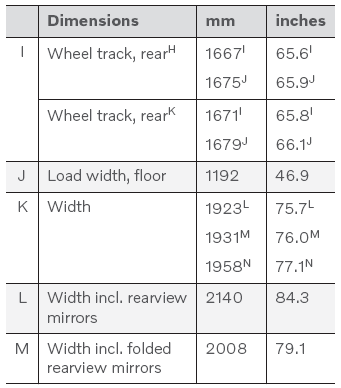 A For curb weight plus 1 person. (Varies slightly depending on tire dimensions, chassis variant, etc.).
B From the second row of seats in 6-seat models*.
C From the second row of seats in 7-seat models*.
D Vehicles with 5 seats.
E Vehicles with 6 seats.
F Vehicles with 7 seats.
G Including roof antenna, at curb weight.
H Vehicles without pneumatic suspension.
I Vehicles with 19-inch wheels.
J Vehicles with 20, 21 and 22-inch wheels.
K Vehicles with pneumatic suspension.
L Chassis width.
M Width for vehicles with 19-inch wheels.
N Width for vehicles with 20, 21 and 22-inch wheels.
* Option/accessory.
The decals in the vehicle contain information such as chassis number, type designation, color code, etc. Location of decals The illustration is general and details may vary depending on market and model...
The following table lists important weight data for your vehicle. CAUTION When loading the vehicle, the maximum gross vehicle weight and permissible axle weights may not be exceeded...
Other information:
The driver support functions Adaptive Cruise Control* and Pilot Assist* have a special brake function in slow traffic and while stationary. In certain situations, the parking brake will be applied to keep the vehicle at a standstill. Braking function in slow traffic and at a standstill In slow-moving, stop-and-go traffic or when stopped at a traffic light, driving will resume automatically if t..
(Option/accessory.) (Certain markets only.) FCC (USA) and IC (Canada) This device complies with FCC rules part 15 and Industry Canada RSS-210. Operation is subject to the following two conditions: (1) This device may not cause harmful interference, and (2) This device must accept any interference that may be received including interference that may cause undesired operation. WARNING The transmi..