Volvo XC90: Specifications / Dimensions
The vehicle's length, height, etc. are shown in the table.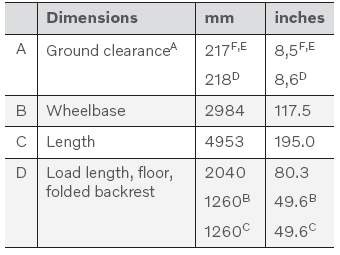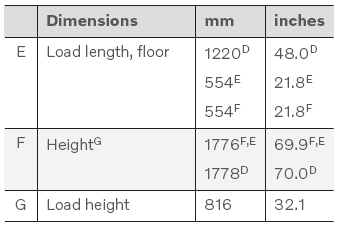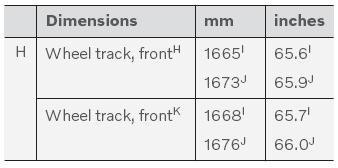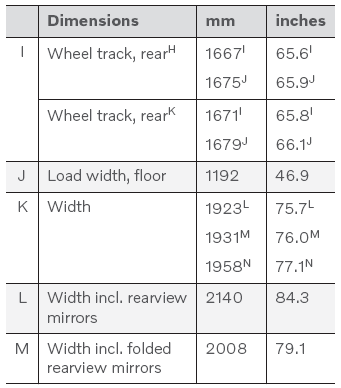 A For curb weight plus 1 person. (Varies slightly depending on tire dimensions, chassis variant, etc.).
B From the second row of seats in 6-seat models*.
C From the second row of seats in 7-seat models*.
D Vehicles with 5 seats.
E Vehicles with 6 seats.
F Vehicles with 7 seats.
G Including roof antenna, at curb weight.
H Vehicles without pneumatic suspension.
I Vehicles with 19-inch wheels.
J Vehicles with 20, 21 and 22-inch wheels.
K Vehicles with pneumatic suspension.
L Chassis width.
M Width for vehicles with 19-inch wheels.
N Width for vehicles with 20, 21 and 22-inch wheels.
* Option/accessory.
The decals in the vehicle contain information such as chassis number, type designation, color code, etc. Location of decals The illustration is general and details may vary depending on market and model...
The following table lists important weight data for your vehicle. CAUTION When loading the vehicle, the maximum gross vehicle weight and permissible axle weights may not be exceeded...
Other information:
..
All doors, tailgate and fuel filler door can be locked and unlocked simultaneously using the buttons on the remote key. Locking with remote key The illustration is generic - details may vary according to vehicle model. Press the button on the remote key to lock the vehicle. To activate the locking sequence, the driver's door must be closed1. If any of the other doors or the tailgate are ..