Volvo XC90: Starting and driving / Detachable towbar
(Option/accessory.)
Volvo recommends the use of Volvo towbars that are specially designed for the vehicle.
NOTE
The optional detachable trailer hitch may not be available in all markets or on all models. Consult your Volvo retailer.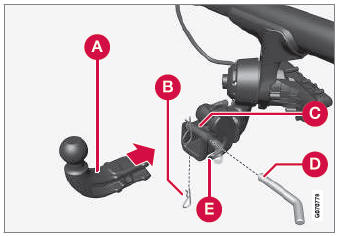 Ball holder

Cotter pin

Towbar assembly

Locking bolt

Safety wire attachment bracket
Installing the ball holder
If necessary, remove the cotter pin from the locking bolt and slide the locking bolt out of the towbar assembly.
Slide the ball holder into the towbar assembly.
Align the hole in the ball holder with the one in the towbar assembly.
Slide the locking bolt through the towbar assembly/ball holder.
Insert the cotter pin in the hole at the end of the locking bolt.
WARNING
Be sure the towbar is securely locked in position before attaching anything to it.
Always attach the trailer's safety wire securely to the towbar's safety wire attachment bracket.
Removing the ball holder
Remove the cotter pin from the locking bolt and slide the locking bolt out of the ball holder/towbar assembly.
Pull the ball holder out of the towbar assembly.
WARNING
Damage may occur on the towbar if it is not used correctly or if incorrect or faulty accessories are used, such as:
Overloading of accessory.
Use of incorrect or faulty accessory.
Accessory used for an incorrect purpose.
Use of weight-distributing towing system.
Incorrectly positioned ball mount; see geometric limits for the towbar.
Stowing the ball holder
WARNING
When not in use, the detachable ball holder should always be properly stowed in the designated location under the floor of the cargo compartment.
Driving with a trailer
When towing a trailer, the original ball holder or equivalent should be used.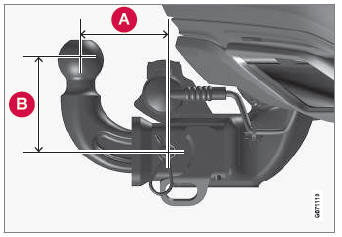 The ball mount must fall within the geometric limits for the towbar, for both distance

and height

. Geometric limits are described on a type plate located on the towbar.
The greater the distance between the load and the bicycle holder, the greater the load on the hitch and on the vehicle. Keep the following points in mind: Mount the heaviest bicycle closest to the vehicle...
There are a number of things to consider when towing a trailer, such as the towbar, the trailer and how the load is distributed in the trailer. Load-carrying capacity is determined by the vehicle's curb weight...
Other information:
Cruise control (CC1) can be deactivated and switched off. Press the button on the steering wheel (2). The symbol and markings turn gray – cruise control goes into standby mode. Press the (1) or (3) buttons on the steering wheel to select another function...
(Option/accessory) (Depending on market, this function can be either standard or optional.) A summary of how Adaptive Cruise Control (ACC1 ) is controlled using the left-side steering wheel keypad and how the function is shown in the display. : From standby mode - activates and sets the current speed : From active mode - deactivates/puts in standby mode : Activates the function from sta..