Volvo XC90: Seats and steering wheel / Adjusting the passenger seat from the driver's seat
(Option/accessory)
The front passenger seat can be adjusted from the driver's seat.
Activating the function
The function is activated via the function view in the center display:

Tap the Adjust Passenger Seat button to activate.
Adjust passenger seat
The driver must adjust the passenger seat within 10 seconds of activating the function. If no adjustment is made within this time, the function will be deactivated.
The driver adjusts the passenger seat using the controls on the driver's seat: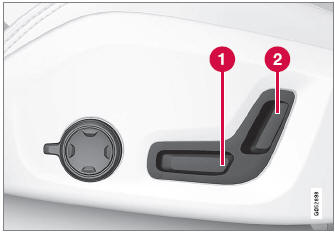 Move the passenger seat forward/rearward by moving the control forward/rearward.

Change the backrest tilt of the passenger seat by moving the control forward/backward.