Volvo XC90: Starting and driving / Overheating of engine and transmission
In certain driving conditions, such as driving in mountainous areas or hot weather, there is a risk of the engine or transmission overheating, especially when carrying heavy loads.
Engine power may be temporarily limited.
Remove any auxiliary lights mounted in front of the grille when driving in hot weather.
If the temperature in the engine's cooling system becomes too high, a warning symbol will appear in the instrument panel along with the message Engine temperature High temperature Stop safely. Pull over to a safe location and let the engine idle for a few minutes to cool down.
If the message Engine temperature High temperature Turn off engine or Engine coolant Level low, turn off engine is displayed, stop the vehicle and turn off the engine.
If the transmission begins to overheat, an alternative gear shifting program will be selected. An integrated protective function will also be activated, the warning symbol will illuminate and the message Transmission warm Reduce speed to lower temperature or Transmission hot Stop safely, wait for cooling will be displayed in the instrument panel. Follow the recommendations given by reducing speed or stopping the vehicle safely and letting the engine idle for a few minutes to let the transmission cool.
If the vehicle begins to overheat, the air conditioning may be temporarily switched off.
After a prolonged period of driving in demanding conditions, do not turn off the engine immediately after stopping.
NOTE
It is normal for the engine's cooling fan to operate for a short time after the engine is switched off.
Symbols in the instrument panel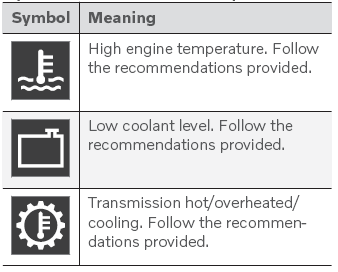 Three-way catalytic converter Keep your engine properly tuned. Certain engine malfunctions, particularly involving the electrical, fuel or distributor ignition systems, may cause unusually high threeway catalytic converter temperatures...
The electrical functions in the vehicle drain the battery to varying degrees. Avoid using ignition mode II when the engine is switched off. Use ignition mode I instead, as this uses less electrical current...
Other information:
The Park Assist Camera (PAC1) can assist the driver when maneuvering in tight spaces by indicating obstacles using the camera screen and graphics in the center display. The Park Assist Camera is a support function that is automatically activated when reverse gear is engaged...
When driving with the lighting ring in the position, low beam will be automatically activated in weak daylight or dark conditions, when the ignition is in the II position. Lighting ring in AUTO position. With the lighting ring in the position, the low beams will be automatically activated if: the front fog lights* are activated the rear fog light is activated the rear and front fog lights ar..