Volvo XC90: Safety / Whiplash Protection System
The Whiplash Protection System (WHIPS) is designed to help reduce the risk of whiplashtype injuries. The system consists of energy absorbing backrests and seat cushions as well as specially designed head restraints in the front seats.
WHIPS is activated in the event of a rear-end collision and adapted to the angle and speed of the collision and to the characteristics of the colliding vehicle.
When WHIPS is activated, the front seat backrests move rearward and the seat cushions move downward to change the seating positions of the driver and front seat passenger. This movement helps absorb some of the forces that could result in whiplash.
WARNING
WHIPS is a supplement to the seat belt. Always wear your seat belt.
WARNING
Do not attempt to alter or repair the seat or WHIPS on your own. Volvo recommends contacting an authorized Volvo workshop.
If the front seats have been subjected to severe stress, e.g. in a collision, the seats must be replaced. Even if the seats appear undamaged, some of their protective properties may have been lost.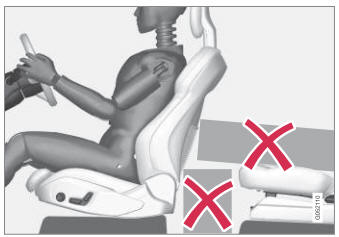 Do not place any objects on the floor behind or under the front seats or on the rear seat that could prevent WHIPS from functioning correctly.
WARNING
Do not squeeze box-like cargo between the rear seat cushion and the front seat backrest.
If the rear seat backrests are folded down, cargo must be secured to prevent it from sliding forward against the front seat backrests in the event of a collision.
WARNING
If a rear seat backrest is folded down or if a rear-facing child restraint is being used in the rear seat, the seat in front must be moved forward so that it does not come into contact with the backrest or child restraint.
Seating position
For WHIPS to provide good protection, the driver and passenger must be seated correctly and the system's function must not be impeded in any way.
Set the front seat to the correct seating position before starting to drive.
The driver and the front seat passenger should sit in the center of the seat with their heads as close as possible to the head restraints.