Volvo XC90: Lighting / Hazard warning flashers
Hazard warning flashers warn other road users by all of the vehicle's turn signals being activated at the same time. The function can be used to warn about a traffic hazard.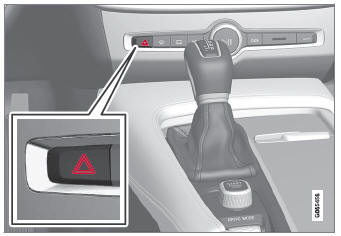 Hazard warning flashers button.
Press the button to activate the hazard warning flashers.
NOTE
Regulations concerning the use of hazard warning flashers may vary from country to country.
The brake lights are automatically illuminated when braking. The brake lights are illuminated when the brake pedal is depressed and when the brakes are automatically applied by a driver support system...
Some of the exterior lights remain on to illuminate the area around the vehicle. This is called home safe lighting. To activate home safe lighting: Switch off the ignition...
Other information:
In certain demanding driving conditions, Lane Keeping Aid (LKA1) may not be able to properly assist the driver. In these situations, it is recommended that the function be deactivated. Examples of such situations include: road work winter driving conditions poor road surfaces a very sporty driving style bad weather with reduced visibility roads with indistinct or no lane markings sharp e..
The rear fog light is considerably brighter than ordinary taillights and should only be used to help other road users see the vehicle when visibility is reduced by conditions such as fog, snow, smoke or dust. Rear fog light button. The fog lights are located on the right and left sides of the rear of the vehicle. The rear fog light can only be used when: ignition mode II is active and the lig..