Volvo XC90: Lighting / Hazard warning flashers
Hazard warning flashers warn other road users by all of the vehicle's turn signals being activated at the same time. The function can be used to warn about a traffic hazard.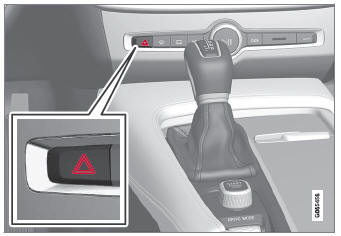 Hazard warning flashers button.
Press the button to activate the hazard warning flashers.
NOTE
Regulations concerning the use of hazard warning flashers may vary from country to country.
The brake lights are automatically illuminated when braking. The brake lights are illuminated when the brake pedal is depressed and when the brakes are automatically applied by a driver support system...
Some of the exterior lights remain on to illuminate the area around the vehicle. This is called home safe lighting. To activate home safe lighting: Switch off the ignition...
Other information:
The vehicle's length, height, etc. are shown in the table. A For curb weight plus 1 person. (Varies slightly depending on tire dimensions, chassis variant, etc.). B From the second row of seats in 6-seat models*. C From the second row of seats in 7-seat models*...
Bright light entering the vehicle from behind, e.g. from the headlights of following vehicles, could reflect in the rearview mirror and door mirrors and cause a glare. Use the dimming function when light from behind is distracting. Auto-dim If bright light enters the vehicle from behind, the door mirrors will automatically dim when it is dark outside or when lighting conditions are low, for exa..