Volvo XC90: Maintenance and service / Opening and closing the hood
To open the hood, pull the lever in the passenger compartment and then turn the handle under the hood.
Opening the hood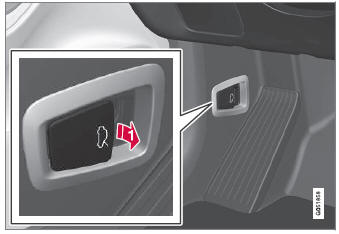 Pull the handle to the left of the brake pedal to release the hood from its fully closed position.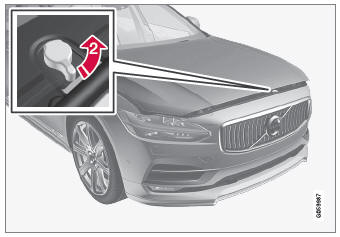 Turn the handle under the front edge of the hood counterclockwise to release the catch and lift the hood.
Warning - hood not closed

When the hood is released, a warning symbol and graphic will be displayed in the instrument panel and an audible signal will sound. If the vehicle begins to roll, the audible signal will be repeated several times.
NOTE
If the warning symbol is illuminated or an audible warning signal sounds even though the hood is securely closed, consult a workshop - an authorized Volvo workshop is recommended.
Closing the hood
Press down the hood until it begins to close under its own weight.
When the hood reaches the catch at the handle in the front edge of the vehicle, press down on the hood to close it completely.
WARNING
Risk of injury! When closing, make sure that the hood is completely unobstructed and that no one can be injured.
WARNING
Make sure the hood locks securely after closing. It must audibly lock on both sides.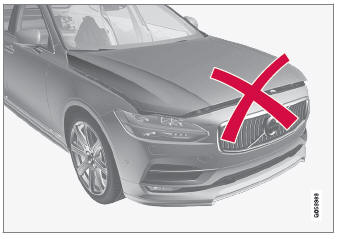 Hood not completely closed.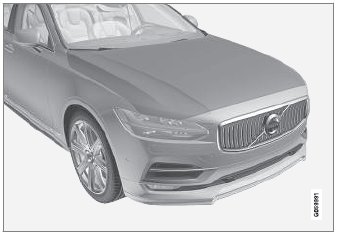 Hood completely closed.
WARNING

Never drive with the hood open!
If this symbol appears, or anything else indicates that the hood is not completely closed while driving, stop immediately and close it properly.
Vehicles with a head-up display have a special type of windshield that meets the requirements for displaying projected information. Volvo recommends contacting an authorized Volvo workshop for assistance replacing the windshield...
This overview shows some service-related components. The layout of the engine compartment may vary depending on model and engine variant. Coolant expansion tank Brake fluid reservoir (located on the driver's side) Washer fluid filler pipe Fusebox Air filter Engine oil filler pipe Location of warning decal for the engine compartment...
Other information:
When refilling coolant, follow the instructions on the package. Never fill the cooling system with only water. The risk of freezing is increased with too low or too high amounts of coolant. If there is coolant under the vehicle, smoke from the cooling system, or if more than 2 liters (about 2 quarts) of coolant has been added to the system, there could be something wrong with the cooling syste..
(Option/accessory.) The function for assisting when driving downhill (HDC1) is a low-speed function with increased engine braking. The function makes it possible to increase or decrease the vehicle's speed on steep downhill gradients by only using the accelerator pedal, without applying the brakes. In vehicles equipped with drive mode control *, the function is included in the Off Road drive mo..