Volvo XC90: Media player / Sharing Internet from the vehicle via Wi-Fi hotspot (tethering)
When the vehicle is connected to the Internet, other devices may share the vehicle's Internet connection1.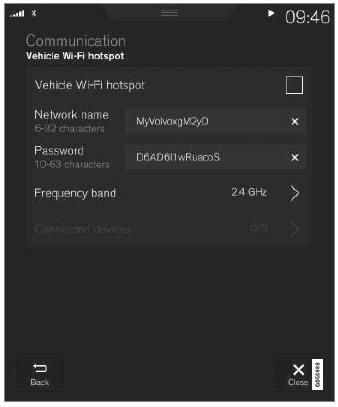 The network service provider (SIM card) must support Internet sharing (tethering).
Tap Settings in the Top view.
Tap Communication Vehicle Wi-Fi Hotspot.
Tap Network name to assign a name to the hotspot.
Tap Password and create a password. This password can then be used to connect other devices to this hotspot.
Tap Frequency band and select a frequency for the hotspot to use to transmit data. Please note that selecting a frequency is not possible on all markets.
Activate/deactivate by tapping to check/ uncheck the Vehicle Wi-Fi Hotspot box.
If Wi-Fi is being used to connect to the Internet, confirm the change of connections.

It is now possible for external devices to connect to the vehicle's Wi-Fi hotspot.
NOTE
Activation of Wi-Fi hotspot can cause additional charges from your network operator.
Contact your network operator about data traffic costs.
The connection status is shown by a symbol in the center display's status bar.
Tap Connected devices to see a list of currently connected devices.
1 This does not apply when the vehicle is connected to the Internet via Wi-Fi.