Volvo XC90: Media player / Sharing Internet from the vehicle via Wi-Fi hotspot (tethering)
When the vehicle is connected to the Internet, other devices may share the vehicle's Internet connection1.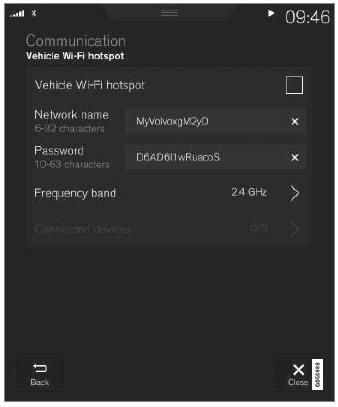 The network service provider (SIM card) must support Internet sharing (tethering).
Tap Settings in the Top view.
Tap Communication Vehicle Wi-Fi Hotspot.
Tap Network name to assign a name to the hotspot.
Tap Password and create a password. This password can then be used to connect other devices to this hotspot.
Tap Frequency band and select a frequency for the hotspot to use to transmit data. Please note that selecting a frequency is not possible on all markets.
Activate/deactivate by tapping to check/ uncheck the Vehicle Wi-Fi Hotspot box.
If Wi-Fi is being used to connect to the Internet, confirm the change of connections.

It is now possible for external devices to connect to the vehicle's Wi-Fi hotspot.
NOTE
Activation of Wi-Fi hotspot can cause additional charges from your network operator.
Contact your network operator about data traffic costs.
The connection status is shown by a symbol in the center display's status bar.
Tap Connected devices to see a list of currently connected devices.
1 This does not apply when the vehicle is connected to the Internet via Wi-Fi.
Your vehicle is equipped with a modem that can be used to connect the vehicle to the Internet. It is also possible to share this Internet connection over Wi-Fi...
Factors affecting the Internet connection. The amount of data transmitted depends on the services or apps currently in use in the vehicle. Streaming music, for example, involves the transmission of a large amount of data, and this requires a good connection and a strong signal...
Other information:
Use cleaning agents and car care products recommended by Volvo. Clean regularly and treat stains immediately. A lightly dampened microfiber cloth is recommended for cleaning interior details and surfaces. These cloths are available for purchase at Volvo retailers...
Cruise Control (CC1) can help the driver maintain an even speed to provide a more relaxing driving experience on highways and long, straight roads with even traffic flows. Function buttons and symbols : Activates Cruise Control from standby mode and resumes the set speed : Increases the set speed : From standby mode – activates Cruise Control and sets the current speed : From active..