Volvo XC90: Starting and driving / Shiftlock
The automatic transmission's shiftlock function helps prevent inadvertently moving the gear selector between different positions. There are two types of shiftlocks: mechanical and automatic.
Mechanical shiftlock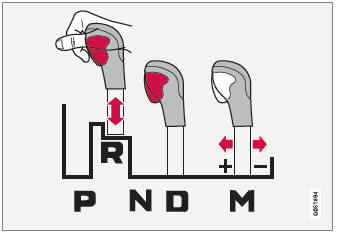 Shiftlock for vehicles with large gear selectors.
The gear selector can be moved back and forth between N and D. The other positions have a shiftlock that is operated using the lock button on the gear selector.
Press and hold the shiftlock button and move the gear selector forward or backward between P, R, N and D.
Automatic shiftlock
The automatic shiftlock has a separate safety system.
From Park – P or Neutral – N
To move the gear selector from P or N to another gear selector position, the brake pedal must be depressed and the ignition in mode II. For vehicles with the small gear selector, the engine must be running.
If the gear selector is in N and the vehicle has been stationary for at least 3 seconds (with or without the engine running), the gear selector will be locked in that position.
Messages in the instrument panel
If the gear selector is locked in position a message will appear in the instrument panel e.g.
Gear lever Press brake pedal to activate gear lever.
There is no mechanical shiftlock function.1
1 Applies for vehicles with the small gear selector
(Option/accessory.) The steering wheel paddles are a supplement to the gear selector and make it possible to shift manually without removing your hands from the steering wheel...
(The function is not available for vehicles with the small gear selector.) If the vehicle does not have electrical current, the automatic shiftlock may be disengaged on vehicles equipped with the large gear selector...
Other information:
This section refers to transporting the vehicle with a tow truck or similar vehicle. Call a professional towing service for assistance. In certain conditions, the towing eyelet can be used to pull the vehicle onto a flatbed tow truck. For vehicles equipped with leveling control *: If the vehicle is equipped with pneumatic suspension, this feature must be turned off before the vehicle is lifted..
..