Volvo XC90: Starting and driving / Deactivating the automatic shiftlock
(The function is not available for vehicles with the small gear selector.)
If the vehicle does not have electrical current, the automatic shiftlock may be disengaged on vehicles equipped with the large gear selector. The shiftlock cannot be disengaged on vehicles equipped with the small gear selector.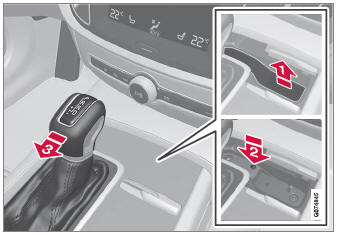 Large gear selector overview.
If the vehicle cannot be driven (e.g. due to a discharged battery), the gear selector must be moved to the N position so that the vehicle can be moved.

Lift the rubber mat in the storage compartment in front of the gear selector. Locate the hole with a spring-loaded button in the bottom of the compartment.

Press a small screwdriver or similar object into the hole and hold it down.

Move the gear selector to N and release the button.
Replace the rubber mat.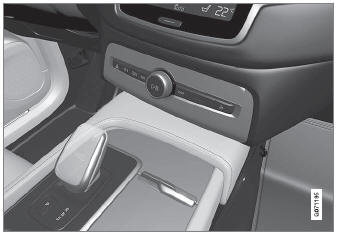 Overview of small gear selector, where it is not possible to deactivate the shiftlock.
The automatic transmission's shiftlock function helps prevent inadvertently moving the gear selector between different positions. There are two types of shiftlocks: mechanical and automatic...
Kickdown can be used when maximum acceleration is needed e.g. when passing. When the accelerator pedal is depressed all the way to the floor (past the normal full accelerator position), the transmission will automatically engage kickdown, i...
Other information:
(Option/accessory.) Turn off leveling control before lifting the vehicle with a jack to help avoid problems with the pneumatic suspension. The vehicle can be lowered or raised to make it easier to load or for passengers to get in and out. Adjusting loading mode Use the buttons in the cargo compartment to raise or lower the rear section of the vehicle to facilitate loading or unloading the vehi..
Distance Alert can be turned off. The function is only available in vehicles that can display information on the windshield with a head-up display*. Activate or deactivate the function using this button in the center display's Function view. GREEN button indicator light – the function is activated. GRAY button indicator light – the function is deactivated. Distance Alert is automaticall..