Volvo XC90: Climate control / Synchronize temperature
The temperature in the different climate zones of the vehicle can be synchronized with the temperature set for the driver's side.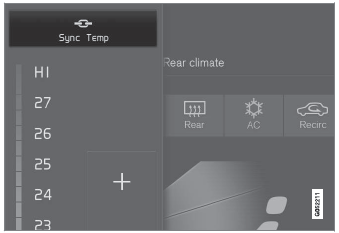 Synchronization button on the driver's side temperature control.
Tap the driver's side temperature button in the center display's climate bar to open the control.
Tap Synchronize temperature.

The temperature for all of the vehicle's climate zones will be synchronized with the one set for the driver's side and the synchronization symbol will be displayed next to the temperature button.
Synchronization is stopped with another press on Synchronize temperature or by changing the temperature setting for a climate zone other than the driver's.
The temperature can be set to the desired number of degrees for the rear seat climate zones. Setting the temperature for the rear seats from the front seats Tap the symbol in the center of the climate bar to open Climate view in the center display...
The air conditioning cools and dehumidifies incoming air as needed. When the air conditioning is activated, it will be switched on and off automatically by the climate system as needed...
Other information:
Safety mode is a feature that is triggered after a collision if there is potential damage to an important function in the vehicle, such as the fuel lines, sensors for one of the safety systems, the brake system, etc. If the vehicle has been involved in a collision, the text Safety mode See Owner's manual may appear in the instrument panel along with the warning symbol if the panel is undamaged..
The vehicle is divided into climate zones to make it possible to set different temperatures for different parts of the passenger compartment. 2-zone climate system Climate zones with 2-zone climate system. In 2-zone climate systems, the passenger compartment temperature can be set separately for the left and right sides of the vehicle. 4-zone climate system* Climate zones with 4-zone climate s..