Volvo XC90: Owner's information / Using the Owner's Manual
To get to know your new vehicle, read the Owner's Manual before driving it for the first time.
Reading your Owner's Manual is a way to familiarize yourself with new features and functions, get advice on how to handle your vehicle in different situations, and to learn how to take advantage of everything your Volvo has to offer. Pay particular attention to the safety warnings provided in the Owner's Manual.
The intention of this owner's information is to explain all of the possible features, functions, options and accessories included in a Volvo vehicle. It is not intended as an indication or guarantee that all of these features, functions and options are included in every vehicle. Some terminology used may not exactly match terminology used in sales, marketing and advertising materials.
Volvo continuously works to develop and improve our products. Modifications can mean that information, descriptions and illustrations in the Owner's Manual differ from the equipment in the vehicle. We reserve the right to make changes without prior notice.
Do not remove this manual from the vehicle. If a problem should occur, you will not have the necessary information on where and how to get professional assistance.
© Volvo Car Corporation
Option/accessory
In addition to standard equipment, the Owner's Manual also describes options (factory-installed equipment) and certain accesso- ries (extra retrofitted equipment). All, at the time of publication known, options and accessories are marked with an asterisk: *.
The equipment described in the Owner's Manual is not available in all vehicles. Vehicles may be equipped differently depending on market requirements and national or local laws and regulations.
For more information on which equipment is standard and which is an option or accessory, please contact your Volvo retailer.
Decals
There are various types of decals affixed in the vehicle to communicate important information in a clear manner. The importance of these decals is explained as follows, in descending order of importance.
Risk of injury
Black ISO symbols on a yellow warning field, white text/image on a black message field. Used to indicate potential danger. Ignoring a warning of this type could result in serious injury or death.
Risk of damage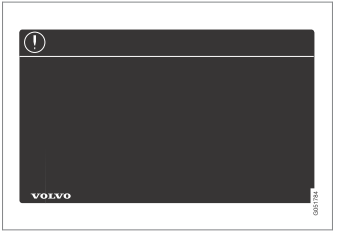 White ISO symbols and white text/image on a black or blue warning field and message field. Used to indicate potential danger. Ignoring a warning of this type could result in damage.
Information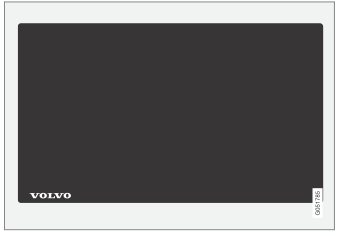 White ISO symbols and white text/image on a black message field.
NOTE
The decals shown in the Owner's Manual do not claim to be exact reproductions of those found in the vehicle. The purpose is to show approximately how they look and about where they are located. The information that applies for your vehicle in particular is found on the decal on the vehicle.
Illustrations, images and video clips
Illustrations, images and video clips used in the Owner's Manual are sometimes generic and are intended to provide an overview or an example of a certain function or feature. They may vary depending on equipment level and market and may differ from the appearance of your vehicle.
Related information
Owner's Manual in the center display
Owner's manual in mobile devices
Volvo Cars support site
Volvo Cars' website and support site contain additional information about your vehicle. Online support Go to volvocars.com/support to visit the site. The support site is available in most markets...
The Owner's Manual is printed on paper from responsibly managed forests. The Forest Stewardship Council (FSC)® symbol certifies that the paper pulp in the printed Owner's Manual comes from FSC®-certified forests or other responsibly managed sources...
Other information:
The driver support functions Adaptive Cruise Control* and Pilot Assist* have a special brake function in slow traffic and while stationary. In certain situations, the parking brake will be applied to keep the vehicle at a standstill. Braking function in slow traffic and at a standstill In slow-moving, stop-and-go traffic or when stopped at a traffic light, driving will resume automatically if t..
Grocery bag holders (hooks) help keep shopping bags in place and prevent them from falling over and spilling their contents in the cargo compartment. On the sides of the cargo compartment There are two fold-out holders in the side panels, one on each side of the cargo compartment. CAUTION The grocery bag holders are only intended to hold weights up to 5 kg (11 lbs). Under the floor hatch*1 Th..