Volvo XC90: Specifications / Air conditioning specifications
The climate system in the vehicle uses a freon-free R1234yf refrigerant. For information regarding the refrigerant, refer to the decal located on the inside of the hood.
The prescribed grades and volumes for fluids and lubricants in the air conditioning system are shown below.
A/C Decal
Decal for R1234yf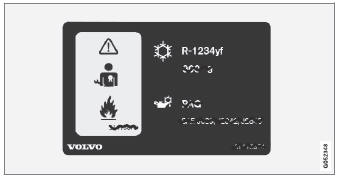 Explanation of symbols for R1234yf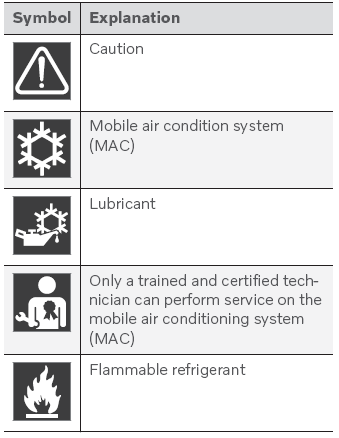 Refrigerant
The refrigerant amount (charge level) is printed on a decal on the inside of the hood.
Vehicles with R1234yf refrigerant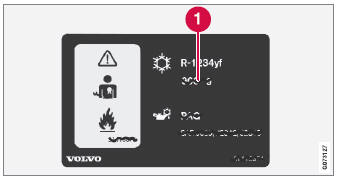 Refrigerant amount.
WARNING
The air conditioning system contains the refrigerant R1234yf under pressure. In accordance with SAE J2845 (Technician Training for Safe Service and Containment of Refrigerants Used in Mobile A/C System), service and repairs to the refrigerant system may only be performed by trained and certified technicians in order to ensure the safety of the system.
Compressor oil

A Vehicles with A/C for the third row of seats*.
Evaporator
CAUTION
The A/C system evaporator must never be repaired or replaced with a previously used evaporator. The new evaporator must be certified and labeled in accordance with SAE J2842.
* Option/accessory.
The following tire pressures are recommended by Volvo for your vehicle. Refer to the tire inflation placard for information specific to the tires installed on your vehicle at the factory...
Other information:
(Option/accessory.) The cargo net helps prevent objects in the cargo compartment from entering the passenger compartment in the event of a sudden stop or hard braking. The cargo net is attached at four points. For safety reasons, the cargo net must always be mounted and secured according to the following description...
All electrical functions and components are protected by a number of fuses in order to protect the vehicle's electrical system from damage by short circuiting or overloading. Refer to the fuse diagram to locate the fuse. Pull out the fuse and examine it from the side to determine if the curved metal wire in the fuse is intact...