Volvo XC90: Driver support / Automatic braking during delayed evasive maneuvers with City Safety
City Safety1 can assist the driver by automatically braking the vehicle when it is not possible to avoid a collision by steering alone.
City Safety assists the driver by periodically attempting to predict possible "escape routes" to the sides of the vehicle in the event a slow-moving or stationary vehicle were to be detected at a late stage.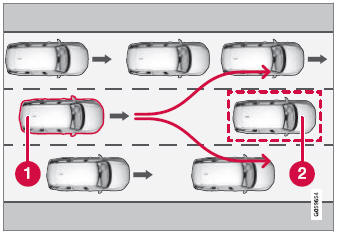 Your vehicle (1) cannot detect any potential escape routes for veering away from the vehicle ahead (2) and may therefore apply the brakes at an earlier stage.

Own vehicle

Slow-moving/stationary vehicles
City Safety will not intervene to automatically apply the brakes if it is possible for the driver to avoid a collision by steering the vehicle.
However, if City Safety determines that an evasive maneuver would not be possible due to traffic in the adjacent lane(s), the function can assist the driver by automatically starting to apply the brakes at an earlier stage.
1 This function is not available on all markets.
City Safety steering assistance may have limited functionality in certain situations and not intervene, e.g.: at speeds outside the range of 50-100 km/h (30-62 mph) if the driver does not take evasive action if speed-dependent power steering wheel resistance is working at reduced power – e...
City Safety can help you apply the brakes for an oncoming vehicle in your lane. If an oncoming vehicle veers into your lane and a collision is unavoidable, City Safety can help reduce your vehicle's speed to attempt to mitigate the force of the collision...
Other information:
To improve visibility to the rear, the door mirrors need to be adjusted to the driver's height and seating position. There are several automatic settings that can also be connected to the memory function buttons for the power seat*. Controls used for door mirrors Door mirror controls...
The type approval for the vehicle's radar units for adaptive cruise control* (ACC1), Pilot Assist* and BLIS*2 are found here. This device complies with Part 15 of the FCC Rules and with Industry Canada licenseexempt RSS standard(s). Operation is subject to the following two conditions: (1) This device may not cause harmful interference, and (2) This device must accept any interference received,..