Volvo XC90: Maintenance and service / Bulb specifications
Specifications for replaceable light bulbs. If you are experiencing problems with any lights other than light bulbs, contact a workshop1. If there is a problem with an LED2 light, the entire lamp unit will normally need to be replaced.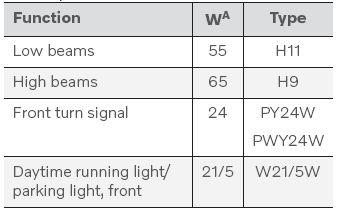 A Watt
1 An authorized Volvo workshop is recommended.
2 LED (Light Emitting Diode)
The turn signal bulbs in the halogen headlights can be changed without the help of a workshop. Before the bulbs can be replaced, the plastic covering over the headlight must be removed...
Use cleaning agents and car care products recommended by Volvo. Clean regularly and treat stains immediately. It is important to vacuum before using a cleaning agent...
Other information:
When hoisting the vehicle, it is important that the jack is positioned on the designated points under the vehicle. The triangles in the plastic covering indicate where the jack attachment points/lifting points (red areas) are located. NOTE For vehicles with Leveling Control*: If the vehicle is equipped with pneumatic suspension, this feature must be turned off before the vehicle is lifted ont..
The center display shows messages in certain circumstances to inform or assist the driver. Example of message in the center display's Top view. Messages with lower priority for the driver are shown in the center display. Most of the messages are shown in the center display's status bar. The message will disappear from the status bar after a short period of time or after the required action has..