Volvo XC90: Maintenance and service / Bulb specifications
Specifications for replaceable light bulbs. If you are experiencing problems with any lights other than light bulbs, contact a workshop1. If there is a problem with an LED2 light, the entire lamp unit will normally need to be replaced.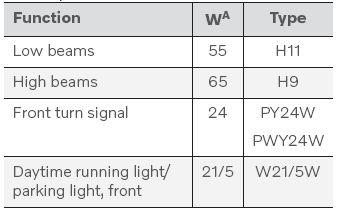 A Watt
1 An authorized Volvo workshop is recommended.
2 LED (Light Emitting Diode)
The turn signal bulbs in the halogen headlights can be changed without the help of a workshop. Before the bulbs can be replaced, the plastic covering over the headlight must be removed...
Use cleaning agents and car care products recommended by Volvo. Clean regularly and treat stains immediately. It is important to vacuum before using a cleaning agent...
Other information:
City Safety1 can alert the driver with light, sound and pulsations in the brake pedal to help the driver detect pedestrians, cyclists, large animals and vehicles. Function overview Audible signal at risk of collision Collision warning symbol Camera/radar sensor distance monitoring The function can help the driver avoid a collision in e...
In certain demanding driving conditions, Lane Keeping Aid (LKA1) may not be able to properly assist the driver. In these situations, it is recommended that the function be deactivated. Examples of such situations include: road work winter driving conditions poor road surfaces a very sporty driving style bad weather with reduced visibility roads with indistinct or no lane markings sharp e..