Volvo XC90: Driver support / Camera and radar unit symbols and messages
Here are examples of some of the messages and symbols related to the camera and radar units that may be displayed in the instrument panel.
Sensor blocked
If this symbol and the message Windscreen sensor Sensor blocked, see Owner's manual is displayed in the instrument panel, it means that the camera and radar unit are unable to detect other vehicles, cyclists, pedestrians and large animals in front of the vehicle and that the vehicle's camera and radar-based functions may be obstructed.
The following table shows some of the situations that can cause the message to be displayed, and suggested actions:

Defective camera

If a camera sector is dark and contains this symbol, this indicates that the camera is not functioning properly.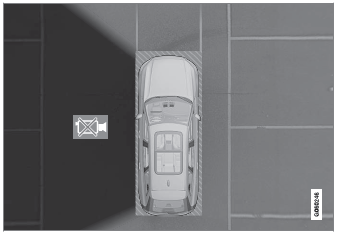 The vehicle's left-side camera is malfunctioning.
A dark camera sector may also be displayed in the following situations, but without the defective camera symbol:
a door is open
the tailgate is open
a rearview mirror is folded in
Rear Park Assist Camera
WARNING

Be extra cautious when reversing if this symbol is shown when a trailer, bike carrier or similar is attached and electrically connected to the vehicle.
The symbol indicates that the rear parking assist sensors are deactivated and will not warn of any obstacles.
In order for the camera and radar units to function properly, they must be kept free of dirt, ice, snow, etc. and should be washed regularly with water and car washing detergent...
Other information:
The camera is used by several driver support systems to e.g. detect lane marker lines or road signs. Location of the camera The camera is used by the following functions: Adaptive Cruise Control* Pilot Assist* Lane Keeping Aid* Steering assistance at risk of collision City Safety Driver Alert Control* Road Sign Information* Active high beams* Park Assist* * Option/accessory...
The following is a glossary of tire-related terms. The tire suppliers may have additional markings, notes or warnings such as standard load, radial tubeless, etc. Tire information placard: A placard showing the OE (Original Equipment) tire sizes, recommended inflation pressure, and the maximum weight the vehicle can carry. Tire Identification Number (TIN): A number on the sidewall of each ..