Volvo XC90: Driver support / Recommended camera and radar sensor maintenance
In order for the camera and radar units to function properly, they must be kept free of dirt, ice, snow, etc. and should be washed regularly with water and car washing detergent.
NOTE
Dirt, ice and snow covering the sensors could cause false warnings, reduced function, or no function.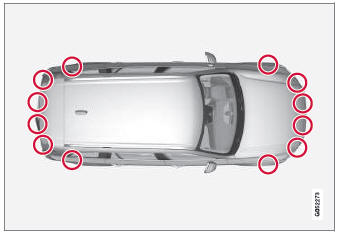 Location of the Park Assist sensors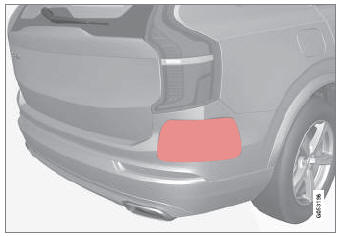 Location of rear radar sensors. Keep the marked area clean (on both the left and right sides of the vehicle).
For best possible performance, it is important to keep the areas in front of the sensors clean.
Do not attach any objects, tape or decals to the surface of the sensors.
Clean the camera lenses regularly using lukewarm water and car washing detergent. Wash gently to avoid scratching the lens.
CAUTION
Only a workshop may perform maintenance on driver support components – an authorized Volvo workshop is recommended.
The camera and radar sensor used by several of the driver support functions has certain limitations, which also affect the functions using the camera and radar sensor...
Here are examples of some of the messages and symbols related to the camera and radar units that may be displayed in the instrument panel. Sensor blocked If this symbol and the message Windscreen sensor Sensor blocked, see Owner's manual is displayed in the instrument panel, it means that the camera and radar unit are unable to detect other vehicles, cyclists, pedestrians and large animals in ..
Other information:
The function for assisting when starting the vehicle on inclines (HSA1) helps prevent the vehicle from rolling backward when starting on an uphill gradient. When backing up a hill, HSA helps prevent the vehicle from rolling forward. The function retains pressure from the brake pedal in the brake system for several seconds after the brake pedal has been released. This temporary braking effect is..
Your vehicle is constructed with protection against corrosion. Corrosion protection for the body consists of modern metallic protective coatings on the sheet metal, a high-quality painting process, corrosion-protected and minimized metal overlap, and shielding plastic components, abrasion protection and supplemental rust inhibitor in exposed areas. In the chassis, exposed components of the whee..