Volvo XC90: Maintenance and service / Changing rear window wipers
The wiper blades help remove water from the windshield and rear window. Along with the washer fluid, they are designed to clean the glass and help improve visibility while driving. The windshield and rear window wiper blades can be replaced.
Changing rear window wipers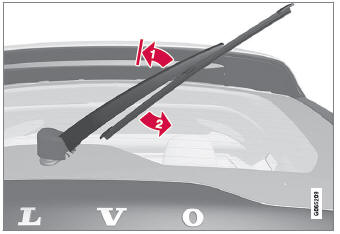 Lift the wiper arm from the window and pull the lower section of the blade to the right.
Grasp the center of the wiper blade and lift it from the window to the stop position.

NOTE

When the wiper arm is halfway folded out, it will stop in a locking position that helps prevent the arm from falling back onto the rear window. The wiper arm must be pulled past the locking position stop in order to change the wiper blade.

Grip the lower part of the blade and pull to the right until the blade loosens from the arm.
Press the new wiper blade until it clicks into place. Check to make sure the blade is securely in place.
Fold the wiper arm back toward the window.
CAUTION
Check the blades regularly. Neglected maintenance shortens the life of the blades.