Volvo XC90: Displays and voice control / Activating and deactivating the center display
The center display can be temporarily switched off and reactivated using the home button under the screen.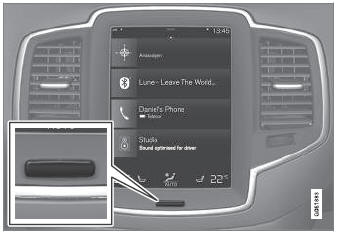 Center display's home button.
When the home button is used, the screen will go dark and the touchscreen no longer reacts to touch. The climate bar will remain visible. All functions connected to the screen continue to operate, such as climate, audio, guiding* and apps. The center display screen can be cleaned when the display is dimmed. The dimming function can also be used to darken the screen so it is not a distraction while driving.
Press and hold the button beneath the screen.

The screen will go dark (the climate bar will remain visible). All functions connected to the screen continue to operate.

To reactivate the screen, briefly press the Home button.

The view that was displayed before the screen was turned off will be displayed again.
NOTE
The screen cannot be turned off when a prompt to perform an action is being displayed on the screen.
NOTE
The center display is turned off automatically when the engine is off and the driver's door is opened.
* Option/accessory.
Returning to Home view from another view Briefly press the home button below the center display. The most recent Home view mode will be displayed...
There are five different basic views in the center display: Home view, Top view, Climate view, App view and Function view. The screen is automatically activated when the driver's door is opened...
Other information:
As part of Volvo's commitment to safety and quality, certain information is recorded regarding vehicle operation, functionality and incidents. US market only: EDR This vehicle is equipped with an "Event Data Recorder" (EDR). The main purpose of an EDR is to record, in certain crash or near crash-like situations, such as an air bag deployment or hitting a road obstacle, data that will assist in ..
Make sure that all passengers have buckled their seat belts before starting to drive. Buckling seat belts Pull out the belt slowly and make sure it is not twisted or damaged.If the seat belt in the second row center seating position1 is used, make sure it is properly positioned in the correct seat belt guide. NOTE The seat belt is equipped with a seat belt retractor that will lock up in..