Volvo XC90: Displays and voice control / Handling the center display
Returning to Home view from another view
Briefly press the home button below the center display.

The most recent Home view mode will be displayed.

Press briefly again.

All of the Home view's tiles will return to standard mode.
NOTE
In Home view's standard mode – short press on the Home button. An animation describing access to the various views is shown on the screen.
Scrolling in lists, articles or views
A scroll indicator is displayed on the screen when it is possible to scroll up or down in the view. Swipe down/up anywhere in the view.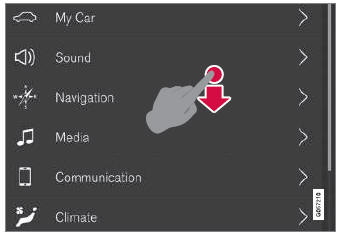 The scroll indicator will be shown in the center display when it is possible to scroll in the view.
Using the center display controls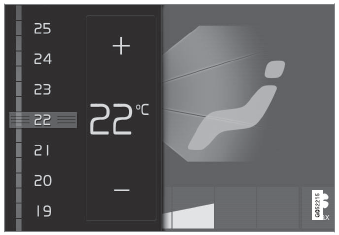 Temperature control.
Digital controls are available for many of the vehicle's functions. For example, to set the temperature:
drag the control to the desired temperature,
tap + or − to raise or lower the temperature by degrees, or
tap the desired temperature on the control.
Many of the vehicle's functions can be controlled from the center display. The center display and its possibilities are presented below. Three of the center display's basic views...
The center display can be temporarily switched off and reactivated using the home button under the screen. Center display's home button. When the home button is used, the screen will go dark and the touchscreen no longer reacts to touch...
Other information:
Option/accessory. The Park Assist Cameras (PAC1) use trajectory lines and fields on the screen to indicate the vehicle's position in relation to its immediate surroundings. Example of trajectory lines The trajectory lines show the anticipated trajectory for the vehicle's outermost dimensions based on the current position of the steering wheel and can help simplify parallel parking, backing int..
Use of textile cleaner is recommended when cleaning textile mats. Clean regularly and treat stains immediately. It is important to vacuum before using a cleaning agent. Remove the inlay mats to clean the floor mats and inlay mats separately. Each inlay mat is secured into place with pins. Remove the inlay mat by grasping the inlay mat at each pin and lifting the mat straight up. Use a vacu..