Volvo XC90: Displays and voice control / Handling the center display
Returning to Home view from another view
Briefly press the home button below the center display.

The most recent Home view mode will be displayed.

Press briefly again.

All of the Home view's tiles will return to standard mode.
NOTE
In Home view's standard mode – short press on the Home button. An animation describing access to the various views is shown on the screen.
Scrolling in lists, articles or views
A scroll indicator is displayed on the screen when it is possible to scroll up or down in the view. Swipe down/up anywhere in the view.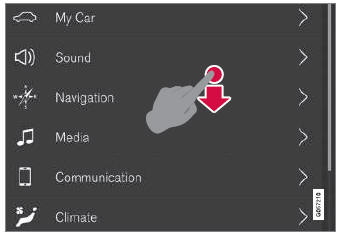 The scroll indicator will be shown in the center display when it is possible to scroll in the view.
Using the center display controls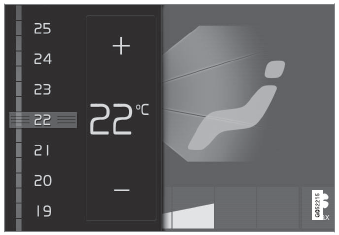 Temperature control.
Digital controls are available for many of the vehicle's functions. For example, to set the temperature:
drag the control to the desired temperature,
tap + or − to raise or lower the temperature by degrees, or
tap the desired temperature on the control.