Volvo XC90: Displays and voice control / Center display overview
Many of the vehicle's functions can be controlled from the center display. The center display and its possibilities are presented below.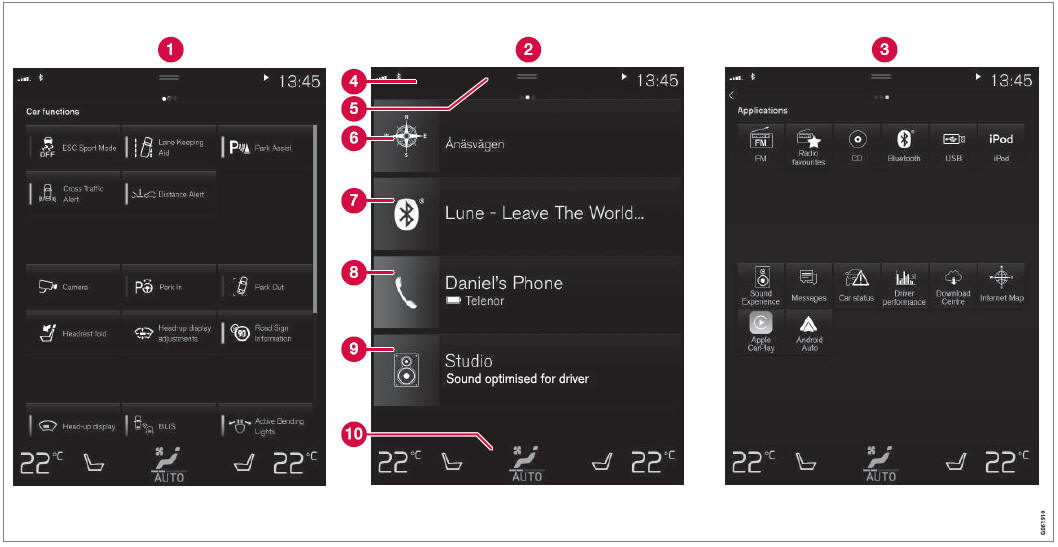 Three of the center display's basic views. Swipe to the right/left to access Function or App view1.

Function view ‒ vehicle functions that can be activated or deactivated with one tap. Certain functions, called "trigger functions", open windows with settings options. One example is the Camera. Settings for the head-up display* are also started from Function view, but adjusted using the right-side steering wheel keypad.

Home view ‒ the initial view displayed when the screen is turned on.

App view – shows downloaded apps (third-party apps) as well as apps for integrated functions, such as FM radio. Tap an app icon to open that app.

Status bar ‒ current vehicle activities are shown at the top of the screen. Network and connection information is shown to the left of the status bar. Media-related information, the clock and information about background activities are shown to the right.

Top view ‒ pull the tab down to open Top view. From here, you can access Settings, Owner's manual, Profile and messages stored in the vehicle. In certain cases, contextual setting (e.g. Navigation Settings) and the contextual Owner's Manual (e.g. Navigation Manual) can also be accessed in Top view.

Navigation ‒ takes you to map navigation with e.g. Sensus Navigation*. Tap the tile to expand it.

Media ‒ most recently used media-related apps. Tap the tile to expand it.

Phone ‒ used to access phone-related functions. Tap the tile to expand it.

Fourth tile ‒ most recently used apps or vehicle functions not associated with the other tiles. Tap the tile to expand it.

Climate row - information and direct interaction to set temperature and seat heating for example*. Tap the symbol in the center of the climate bar to open Climate view and additional setting options.
NOTE
The climate system can be used to cool down the media system in the center display if needed. In these cases, the message Climate system Cooling the infotainment system will be shown in the instrument panel.
Related information
Handling the center display
Navigating in the center display's views
Function view in the center display
Apps
Symbols in the center display status bar
Changing settings in the center display's Top view
Opening contextual setting in the center display
Owner's Manual in the center display
Media player
Phone
Climate system controls
Turning off and adjusting the volume of the center display system sounds
Changing the appearance of the center display
Changing system language
Changing system units of measurement
Cleaning the center display
Messages in the center display
1 In right-hand drive vehicles, these views are mirror images of the ones shown here.
* Option/accessory.