Volvo XC90: Displays and voice control / Date and time
The clock is displayed in both the instrument panel and the center display.
Location of clock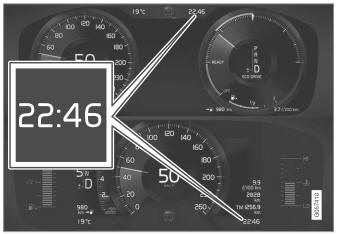 Location of clock in 12" * and 8" instrument panels. The illustration is generic - details may vary according to vehicle model.
Certain messages and other information may obscure the clock in the instrument panel.
In the center display, the clock is located on the upper right-hand side in the status bar.
Settings for date and time
Automatic time for vehicles with GPS
When the vehicle is equipped with a navigation system, Auto Time is also available. The time zone will then be automatically set to the vehicle's location. In some navigation systems, the current location must also be set to determine the correct time zone. If Auto Time is not selected, the time and date can be adjusted using the up and down arrows on the touchscreen.
Daylight savings time
In some countries, the Auto Daylight Saving Time setting can be selected to automatically change to daylight savings time. For other countries, the Daylight Saving Time setting can be selected manually.
* Option/accessory.