Volvo XC90: Displays and voice control / Date and time
The clock is displayed in both the instrument panel and the center display.
Location of clock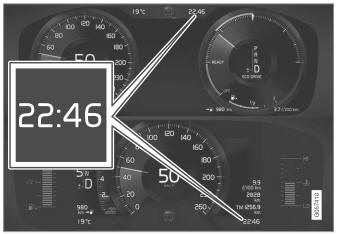 Location of clock in 12" * and 8" instrument panels. The illustration is generic - details may vary according to vehicle model.
Certain messages and other information may obscure the clock in the instrument panel.
In the center display, the clock is located on the upper right-hand side in the status bar.
Settings for date and time
Automatic time for vehicles with GPS
When the vehicle is equipped with a navigation system, Auto Time is also available. The time zone will then be automatically set to the vehicle's location. In some navigation systems, the current location must also be set to determine the correct time zone. If Auto Time is not selected, the time and date can be adjusted using the up and down arrows on the touchscreen.
Daylight savings time
In some countries, the Auto Daylight Saving Time setting can be selected to automatically change to daylight savings time. For other countries, the Daylight Saving Time setting can be selected manually.
* Option/accessory.
Trip statistics settings can be reset or adjusted. Open the Driver performance app in the App view to display trip statistics. Tap Preferences to change the graph scale...
The ambient temperature is shown in the instrument panel. The sensor detects the temperature outside the vehicle. Location of the ambient temperature sensor in 12"* and 8" instrument panels...
Other information:
Properly loading your vehicle will provide maximum return of vehicle design performance. Weight designations Before loading your vehicle, familiarize yourself with the following terms for determining your vehicle's weight ratings, with or without a trailer, from the vehicle's Federal/Canadian Motor Vehicle Safety Standards (FMVSS/ CMVSS) label, and the vehicle's tire information placard: Curb w..
The fuel gauge in the instrument panel shows the fuel level in the tank. The illustration is generic - details may vary according to vehicle model. Fuel gauge in 12" instrument panel: The beige area in the fuel gauge indicates the amount of fuel left in the tank. When the fuel level is low, the fuel pump symbol will illuminate with an amber-colored light. The trip computer also indicates the ap..