Volvo XC90: Displays and voice control / Ambient temperature sensor
The ambient temperature is shown in the instrument panel.
The sensor detects the temperature outside the vehicle.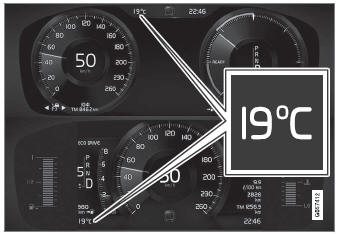 Location of the ambient temperature sensor in 12"* and 8" instrument panels. The illustration is generic - details may vary according to vehicle model.
If the vehicle has been stationary, the sensor reading may be higher than the actual temperature.

When the ambient temperature is between –5 °C and +2 °C (23 °F and 36 °F), a snowflake symbol will illuminate to alert the driver of the risk of slippery conditions.
The symbol is also temporarily lit in the headup display* if the vehicle is equipped with one.
Change the measurement standard for the temperature sensor etc. via system settings in the center display's Top view.
* Option/accessory.
The clock is displayed in both the instrument panel and the center display. Location of clock Location of clock in 12" * and 8" instrument panels. The illustration is generic - details may vary according to vehicle model...
Indicator and warning symbols alert the driver that a function is active, that a symbol is working, or that an error or serious fault has occurred. Red symbols A Canadian models...
Other information:
(Option/accessory) There are subfunctions for Road Sign Information (RSI1) that can alert the driver if the speed limit has been exceeded or if there are speed cameras nearby. Example of speed camera and speed limit information in the instrument panel Speed limit warning When Speed Warning is activated, the symbol for the current speed limit in the instrument panel2 will flash temporarily if..
There are numerous settings that can be made to enhance your SiriusXM® Satellite radio listening experience. Settings Drag down the top view and tap on Settings Media SiriusXM. The following alternatives will be displayed: Traffic Jump Tap to display a list of cities from which you can choose to get traffic/weather information (or Traffic jump off to deactivate the feature). Tap to s..