Volvo XC90: Driver support / Deactivating Pilot Assist
(Option/accessory.)
(Depending on market, this function can be either standard or optional.)
Pilot Assist can be deactivated and switched off.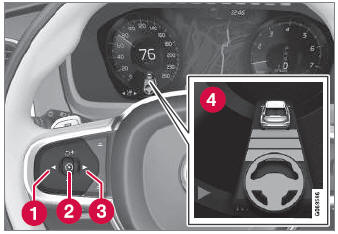 A green steering wheel indicates that Pilot Assist is providing steering assistance.
Press the button on the steering wheel (2).

The symbol and markings turn gray – Pilot Assist goes into standby mode. The time interval indicator light and any symbols for the target vehicle will go out.
Press the (1) or (3) buttons on the steering wheel to select another function.

The Pilot Assist symbol and marking (4) in the instrument panel will go out and the stored maximum speed will be erased.
WARNING
With Pilot Assist in standby mode, the driver must intervene and steer and regulate both speed and distance to the vehicle ahead.
If the vehicle comes too close to a vehicle ahead when Pilot Assist is in standby mode, the driver is instead warned of the short distance by the Distance Alert* function.
* Option/accessory.