Volvo XC90: Key, locks and alarm / Electronic immobilizer
The electronic immobilizer is a start inhibitor that helps prevent the vehicle from being started by an unauthorized person.
The vehicle can only be started with the right remote key.
The following instrument panel error messages are related to the electronic immobilizer: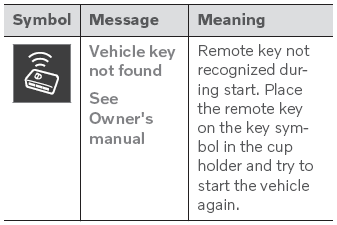 Remote immobilizer with tracking system
(Only certain markets and in combination with Volvo On Call.)
The vehicle is equipped with a system that makes it possible to track and locate the vehicle and to remotely activate the immobilizer to prevent the vehicle from being started. Contact your nearest Volvo retailer for more information and assistance activating the system.
The following instrument panel error messages are related to the remote immobilizer with tracking system: