Volvo XC90: Loading, storage and passenger compartment / Grocery bag holders
Grocery bag holders (hooks) help keep shopping bags in place and prevent them from falling over and spilling their contents in the cargo compartment.
On the sides of the cargo compartment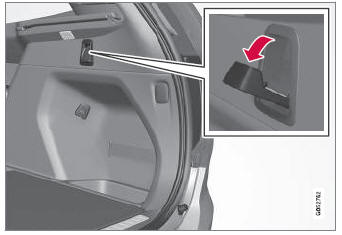 There are two fold-out holders in the side panels, one on each side of the cargo compartment.
CAUTION
The grocery bag holders are only intended to hold weights up to 5 kg (11 lbs).
Under the floor hatch*1
There are two grocery bag holders and an elastic band2 in the hatch in the cargo compartment floor. The strap can be attached in four different positions.
Open the hatch to access the grocery bag holders. Use the provided elastic strap to secure shopping bags in a suitable position. Bags with handles of a suitable size can also be hung on the hooks.
1 5-seat models only.
2 Additional elastic straps can be ordered from a Volvo retailer.
* Option/accessory.