Volvo XC90: Loading, storage and passenger compartment / Grocery bag holders
Grocery bag holders (hooks) help keep shopping bags in place and prevent them from falling over and spilling their contents in the cargo compartment.
On the sides of the cargo compartment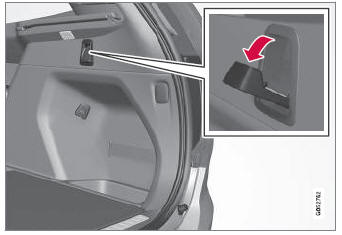 There are two fold-out holders in the side panels, one on each side of the cargo compartment.
CAUTION
The grocery bag holders are only intended to hold weights up to 5 kg (11 lbs).
Under the floor hatch*1
There are two grocery bag holders and an elastic band2 in the hatch in the cargo compartment floor. The strap can be attached in four different positions.
Open the hatch to access the grocery bag holders. Use the provided elastic strap to secure shopping bags in a suitable position. Bags with handles of a suitable size can also be hung on the hooks.
1 5-seat models only.
2 Additional elastic straps can be ordered from a Volvo retailer.
* Option/accessory.
Volvo-developed load carriers are recommended for carrying loads on the roof of the vehicle. Volvo load carriers are specially designed to help prevent damage to your vehicle and help ensure maximum safety while driving...
The load anchoring eyelets in the cargo compartment can be used to secure objects with straps, a net, etc. WARNING Hard, sharp and/or heavy objects in or protruding from the vehicle can cause injury in the event of hard braking...
Other information:
The antennas for the keyless start system and keyless locking system* are integrated in the vehicle. Location of the antennas: Under the cup holder in the front section of the tunnel console In the upper front section of the left-side rear door1 In the upper front section of the right-side rear door1 In the center of the rear seat backrest1 WARNING Individuals with an implanted pacemaker ..
(Option/accessory.) (Depending on market, this function can be either standard or optional.) Pilot Assist can be deactivated and switched off. A green steering wheel indicates that Pilot Assist is providing steering assistance. Press the button on the steering wheel (2). The symbol and markings turn gray – Pilot Assist goes into standby mode. The time interval indicator light and any..