Volvo XC90: Key, locks and alarm / Keyless and touch-sensitive surfaces
(Option/accessory.)
With the keyless locking and unlocking function, the remote key only needs to be within range, e.g. in a pocket or bag. The vehicle can then be locked or unlocked by touching the pressure-sensitive surface on the door handle.
Pressure-sensitive surfaces
Door handle
There are indentations on the outside of the outer door handles for locking, and pressuresensitive surfaces on the inside of the handles for unlocking.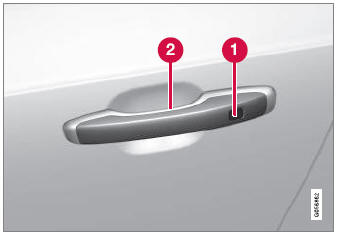 Pressure-sensitive indentation for locking

Pressure-sensitive surface for unlocking
NOTE
It is important that only one pressure-sensitive surface is activated at a time. If the handle is grasped at the same time as the lock area is pressed, there is a risk that double commands may be sent. This may cause the requested action (locking/unlocking) to be delayed or not performed at all.
Tailgate handle
The tailgate handle has a rubberized pressure plate that can only be used for unlocking.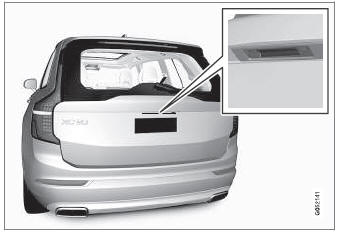 NOTE
Please be aware that the system could be activated in a car wash if the remote key is within range.
The following information contains type designations for the start and lock system. Alarm system USA FCC ID: MAYDA 5823(3) This device complies with part 15 of the FCC rules...
(Option/accessory.) With keyless locking and unlocking, touching the pressure-sensitive indentation on the door handle will lock or unlock the vehicle...
Other information:
Connecting a phone to the car via Bluetooth automatically A phone can be automatically connected to the vehicle via Bluetooth. The phone must have first been paired with the vehicle. Only the two most recently connected phones can be connected automatically...
(Option/accessory.) Park Assist Pilot (PAP1) helps the driver park using three different steps. The function can also help the driver pull out of a parking space. The function measures the space and steers the vehicle. The driver's role is to: keep close watch of the area around the vehicle follow the instructions on the center display change gears (reverse/forward) – an audible signal ind..