Volvo XC90: Media player / Phone
A phone equipped with Bluetooth can be wirelessly connected to the vehicle's integrated hands-free system.
The audio and media system offers hands-free functionality for remotely controlling a number of the phone's features. The phone's integrated controls can also be used, even when it is connected to the vehicle.
When the phone has been paired and connected to the vehicle, it can be used as an Internet connection or to make or receive calls, send or receive text messages or wirelessly play music.
The phone is controlled from the center display, and the App menu (accessed using the right-side steering wheel keypad) and voice commands can also be used to control certain functions.
Overview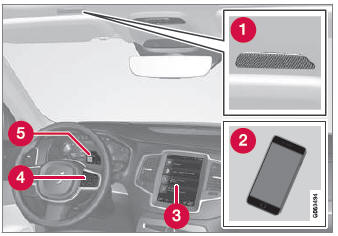 Microphone.

Phone.

Phone handling in the center display.

Keypad for controlling phone functions shown in the center display and voice commands.

Instrument panel.
Connecting a phone to the car via Bluetooth automatically
Connecting a phone to the car via Bluetooth manually
Disconnecting a Bluetooth-connected phone
Switch between phones connected via Bluetooth
Disconnecting Bluetooth-connected devices
Wireless phone charger*
Phone settings
Voice Control
Handling the App menu in the instrument panel
Sound settings
Connecting the vehicle to the Internet via a Bluetooth-connected phone
* Option/accessory.
(Option/accessory.) Here are some useful tips for when you use Android Auto1. Ensure that your apps are updated. When starting the vehicle, wait until the center display has started, connect the device and then open Android Auto from the app view...
Pair a Bluetooth-enabled phone to the vehicle to make calls, send/receive text messages and wirelessly play media from the vehicle, or connect the vehicle to the Internet...
Other information:
When refilling coolant, follow the instructions on the package. Never fill the cooling system with only water. The risk of freezing is increased with too low or too high amounts of coolant. If there is coolant under the vehicle, smoke from the cooling system, or if more than 2 liters (about 2 quarts) of coolant has been added to the system, there could be something wrong with the cooling syste..
Bright light entering the vehicle from behind, e.g. from the headlights of following vehicles, could reflect in the rearview mirror and door mirrors and cause a glare. Use the dimming function when light from behind is distracting. Auto-dim If bright light enters the vehicle from behind, the door mirrors will automatically dim when it is dark outside or when lighting conditions are low, for exa..