Volvo XC90: Starting and driving / Parking brake
The parking brake helps keep the vehicle stationary by mechanically locking two wheels.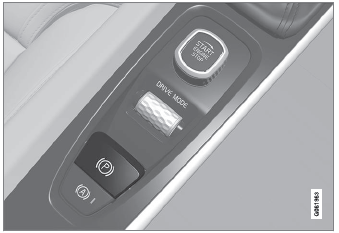 The parking brake controls are located in the tunnel console between the seats.
When the electric parking brake is being applied, a faint sound can be heard from the brake's electric motor. This sound can also be heard during the automatic function check of the parking brake.
If the vehicle is stationary when the parking brake is activated, it will only be applied to the rear wheels. If it is activated while the vehicle is moving, the normal brakes will be used on all four wheels. Braking will be transferred to only the rear wheels when the vehicle is almost stopped.
Regularly check the brake system components for wear. To keep the vehicle as safe and reliable as possible, follow the Volvo service schedule specified in the Warranty and Maintenance Records Information booklet...
Use the parking brake to help keep the vehicle stationary when it is parked. Activating the parking brake Pull up the control. The symbol in the instrument panel will illuminate when the parking brake is activated...
Other information:
Volvo is one of the leading companies for car safety. Volvo engineers and manufactures vehicles designed to help protect vehicle occupants in the event of a collision. Volvos are designed to absorb the impact of a collision. This energy absorption system including, but not limited to, structural compo- nents such as bumper reinforcement bars, bumper energy absorbers, frames, rails, fender apron..
It may not always be desirable to store settings made in the vehicle to the active driver profile. In these instances, the driver profile can be protected. NOTE Protecting a driver profile is only possible when the vehicle is stationary. To protect a driver profile: Tap Settings in the Top view in the center display. Tap System Driver Profiles. Select Edit Profile. A menu will open in whic..