Volvo XC90: Starting and driving / Parking brake
The parking brake helps keep the vehicle stationary by mechanically locking two wheels.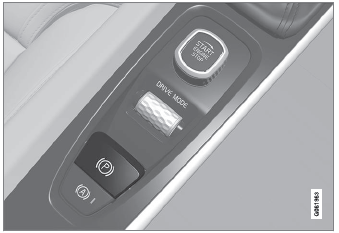 The parking brake controls are located in the tunnel console between the seats.
When the electric parking brake is being applied, a faint sound can be heard from the brake's electric motor. This sound can also be heard during the automatic function check of the parking brake.
If the vehicle is stationary when the parking brake is activated, it will only be applied to the rear wheels. If it is activated while the vehicle is moving, the normal brakes will be used on all four wheels. Braking will be transferred to only the rear wheels when the vehicle is almost stopped.
Regularly check the brake system components for wear. To keep the vehicle as safe and reliable as possible, follow the Volvo service schedule specified in the Warranty and Maintenance Records Information booklet...
Use the parking brake to help keep the vehicle stationary when it is parked. Activating the parking brake Pull up the control. The symbol in the instrument panel will illuminate when the parking brake is activated...
Other information:
If auto climate control is activated, several climate system functions are controlled automatically. Tap the symbol in the center of the climate bar to open Climate view in the center display. Tap or press and hold AUTO Climate/> Tap - air recirculation, air conditioning and air distribution are controlled automatically...
Volvo is committed to the well-being of its customers. As a natural part of this commitment, we care about the environment in which we all live. Concern for the environment means an everyday involvement in reducing our environmental impact. Volvo's environmental activities are based on a holistic view, which means we consider the overall environmental impact of a product throughout its complete..