Volvo XC90: Starting and driving / Parking brake
The parking brake helps keep the vehicle stationary by mechanically locking two wheels.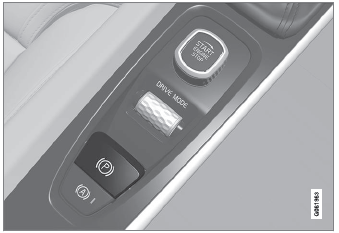 The parking brake controls are located in the tunnel console between the seats.
When the electric parking brake is being applied, a faint sound can be heard from the brake's electric motor. This sound can also be heard during the automatic function check of the parking brake.
If the vehicle is stationary when the parking brake is activated, it will only be applied to the rear wheels. If it is activated while the vehicle is moving, the normal brakes will be used on all four wheels. Braking will be transferred to only the rear wheels when the vehicle is almost stopped.