Volvo XC90: Wheels and tires / Tread wear indicator
The tread wear indicator shows the status of the tire's tread.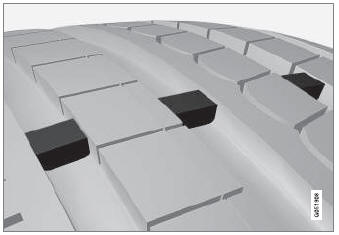 The tread wear indicator is a narrow elevated strip running across the tire's longitudinal tread grooves. The letters TWI (Tread Wear Indicator) are visible on the side of the tire. When approximately 1.6 mm (1/16 inch) is left on the tread, the tread will be at the same height as the tread wear indicator. Replace the tire as soon as possible. Tires with low tread offer very poor traction in rain or snow.
Tires with tread designed to roll in only one direction are marked with an arrow on the sidewall. The arrow shows the tire's direction of rotation. The tire should maintain the same direction of rotation throughout its service life...
The following is a glossary of tire-related terms. The tire suppliers may have additional markings, notes or warnings such as standard load, radial tubeless, etc...
Other information:
(Option/accessory) There are subfunctions for Road Sign Information (RSI1) that can alert the driver if the speed limit has been exceeded or if there are speed cameras nearby. Example of speed camera and speed limit information in the instrument panel Speed limit warning When Speed Warning is activated, the symbol for the current speed limit in the instrument panel2 will flash temporarily if..
City Safety can help you apply the brakes for an oncoming vehicle in your lane. If an oncoming vehicle veers into your lane and a collision is unavoidable, City Safety can help reduce your vehicle's speed to attempt to mitigate the force of the collision. Own vehicle Oncoming vehicles The following criteria must be met for the function to work: your vehicle's speed must be above 4 km/h (3 ..