Volvo XC90: Wheels and tires / Tire direction of rotation
Tires with tread designed to roll in only one direction are marked with an arrow on the sidewall.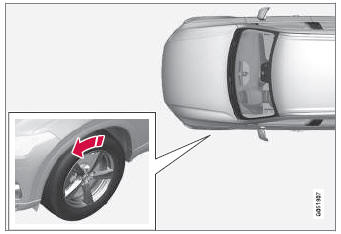 The arrow shows the tire's direction of rotation.
The tire should maintain the same direction of rotation throughout its service life.
Tires should only be moved between the front and back, never from right to left or vice versa.
Incorrectly mounted tires impair the vehicle's braking properties and ability to force aside rain, snow and slush.
The tires with the most tread should always be mounted on the rear wheels to help reduce the risk of skidding.
NOTE
Use tires of the same type, dimensions and make (manufacturer) on each axle.