Volvo XC90: Lighting / Using high beam
High beam is operated via the left-hand steering wheel lever. High beam is the vehicle's strongest lighting and should be used when driving in dark conditions, provided it does not blind other road users, to improve visibility.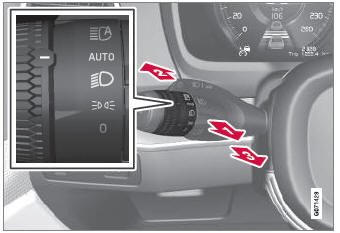 Steering wheel lever with lighting ring.
High beam flash

Move the steering wheel lever slightly backward to the high beam flash mode. The high beams will illuminate until the lever is released.
High beams

The high beams can be activated when the lighting ring is in mode

1 or
. Activate high beams by moving the steering wheel lever forward.

Deactivate by moving the steering wheel lever backward.
When the high beams are activated, the

symbol will be illuminated in the instrument panel.
1 When the low beams are on.
When driving with the lighting ring in the position, low beam will be automatically activated in weak daylight or dark conditions, when the ignition is in the II position...
Active high beams is a function that uses camera sensors in the upper edge of the windshield to detect the headlights of approaching vehicles or the taillights of the vehicle directly ahead...
Other information:
(Option/accessory.) SiriusXM® Satellite radio offers several features for finding and listening to music, news, sporting events, etc. being broadcast on satellite radio stations. SiriusXM® Satellite radio functions With SiriusXM® Satellite radio activated, tap Library to display a screen offering the following functions: Search (the magnifying glass icon) Channels Favorites Categories ..
(Option/accessory.) A preconditioning timer setting that is no longer needed can be deleted. The button for editing a list/deleting a timer setting in the Parking climate tab in Climate view. Open Climate view in the center display. Select the Parking climate tab. Tap Edit list. Tap the editing icon to the right in the list. The icon will change to the text Delete. Tap Delete to confi..