Volvo XC90: Driver support / Camera
The camera is used by several driver support systems to e.g. detect lane marker lines or road signs.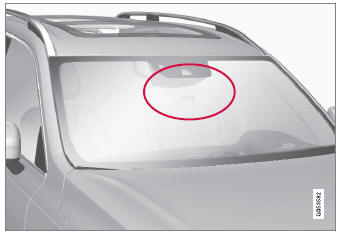 Location of the camera
The camera is used by the following functions:
Adaptive Cruise Control*
Pilot Assist*
Lane Keeping Aid*
Steering assistance at risk of collision
City Safety
Driver Alert Control*
Road Sign Information*
Active high beams*
Park Assist*
* Option/accessory.
The type approval for the vehicle's radar units for adaptive cruise control* (ACC1), Pilot Assist* and BLIS*2 are found here. This device complies with Part 15 of the FCC Rules and with Industry Canada licenseexempt RSS standard(s)...
The camera and radar sensor used by several of the driver support functions has certain limitations, which also affect the functions using the camera and radar sensor...
Other information:
City Safety steering assistance may have limited functionality in certain situations and not intervene, e.g.: at speeds outside the range of 50-100 km/h (30-62 mph) if the driver does not take evasive action if speed-dependent power steering wheel resistance is working at reduced power – e...
(Option/accessory.) With the keyless locking and unlocking function, the remote key only needs to be within range, e.g. in a pocket or bag. The vehicle can then be locked or unlocked by touching the pressure-sensitive surface on the door handle. Pressure-sensitive surfaces Door handle There are indentations on the outside of the outer door handles for locking, and pressuresensitive surfaces on ..