Volvo XC90: Safety / Child restraints
Suitable child restraints should always be used when children travel in the vehicle.
Child restraint systems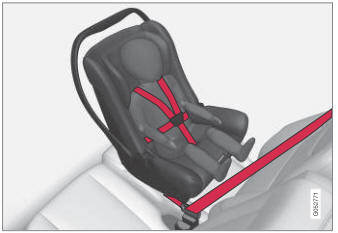 Infant seat
There are three main types of child restraint systems: infant seats, convertible seats and booster cushions. They are classified according to the child's age and size.
The child restraint should be secured using a three-point seat belt, ISOFIX/LATCH anchors or top tether anchors.
Convertible seat
WARNING
A child seat should never be used in the front passenger seat of any vehicle with a front passenger airbag - not even if the "Passenger airbag off" symbol near the rear-view mirror is illuminated. If the severity of an accident were to cause the airbag to inflate, this could lead to serious injury or death to a child seated in this position.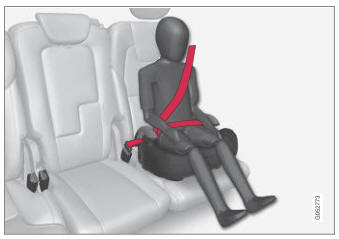 Booster cushion
WARNING
Always refer to the child restraint manufacturer's instructions for detailed information on securing the restraint.
WARNING
When not in use, keep the child restraint system secured or remove it from the passenger compartment to help prevent it from injuring passengers in the event of a sudden stop or collision.
A small child's head represents a considerable part of its total weight and its neck is still very weak. Volvo recommends that children up to age 4 travel, properly restrained, facing rearward. In addition, Volvo recommends that children should ride rearward facing, properly restrained, as long as possible.
NOTE
Prolonged installation and use of the child restraint may damage the vehicle's interior. Volvo recommends using the kick guard accessory to help protect the vehicle's interior.
Automatic Locking Retractor/Emergency Locking Retractor (ALR/ELR)
To make child seat installation easier, each seat belt (except for the driver's belt) is equipped with a locking mechanism to help keep the seat belt taut.
When attaching the seat belt to a child seat:
Attach the seat belt to the child seat according to the child seat manufacturer's instructions.
Pull the seat belt out as far as possible.
Insert the seat belt latch plate into the buckle (lock) in the usual way.
Release the seat belt and pull it taut around the child seat.
A sound from the seat belt retractor will be audible at this time and is normal. The belt will now be locked in place. This function is automatically disabled when the seat belt is unlocked and the belt is fully retracted.
WARNING
Do not use child safety seats or child booster cushions/backrests in the front passenger's seat. We also recommend that children who have outgrown these devices sit in the rear seat with the seat belt properly fastened.
Child restraint registration and recalls
Child restraints could be recalled for safety reasons. You must register your child restraint to be reached in a recall. To stay informed about child safety seat recalls, be sure to fill out and return the registration card that comes with new child restraints.
Child restraint recall information is readily available in both the U.S. and Canada. For recall information in the U.S., call the U.S. Government's Auto Safety Hotline at 1-800-424-9393 or go to http://www.odi.nhtsa.dot.gov/cars/problems/recalls/register/childseat/index.cfm. In Canada, visit Transport Canada's Child Safety website at http://www.tc.gc.ca/roadsafety/childsafety/menu.htm.
* Option/accessory.