Volvo XC90: Maintenance and service / Cleaning the center display
Marks, stains, finger smudges etc. on the center display may affect its performance and readability. Clean the screen regularly with a microfiber cloth.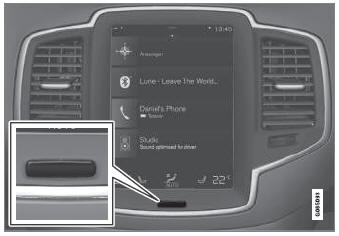 Turn off the center display by pressing and holding the Home button.
Wipe the screen clean with the microfiber cloth provided or use another microfiber cloth of similar quality. Wipe the screen with a clean, dry microfiber cloth using small, circular motions. If necessary, moisten the cloth slightly.
Reactivate the display by pressing the Home button briefly.
CAUTION
The microfiber cloth must be free of sand and dirt when cleaning the center display.
CAUTION
When cleaning the center display, apply only light pressure to the screen. Pressing too hard could damage the screen.
CAUTION
Do not spray liquid or corrosive chemicals directly onto the center display. Do not use window cleaners, cleaning agents, aerosol sprays, solvents, alcohol, ammonia or detergents that contain abrasives.
Never use abrasive cloths, paper towels or tissue paper, as these may scratch the center display.
Use cleaning agents and car care products recommended by Volvo. Clean regularly and treat stains immediately. It is important to vacuum before using a cleaning agent...
(Option/accessory.) Carefully wipe the glass covering the head-up display unit with a clean and dry microfiber cloth. If necessary, the cloth may be slightly moistened...
Other information:
(Option/accessory.) The climate in the passenger compartment can be maintained when the vehicle is parked, e.g. if the engine is turned off but the driver or passengers remain in the vehicle. This function can only be direct-started from the center display...
(Certain models only.) The temporary tire sealing system can be used to seal a puncture in a tire or to check and adjust the pressure in the tire. Models equipped with a spare wheel1 do not have the tire sealing system. WARNING California Proposition 65 Operating, servicing and maintaining a passenger vehicle can expose you to chemicals including engine exhaust, carbon monoxide, phthalates, and..