Volvo XC90: Key, locks and alarm / Detachable key blade
The remote key contains a detachable metal key blade that can be used to activate a number of functions and preform certain actions.
A Volvo workshop can provide you with the key blade's unique code, which is recommended in case you need to order a new key blade.
Using the detachable key blade
The detachable key blade can be used to
manually open the left-side front door if central locking cannot be activated with the remote key
emergency lock all doors
activate/deactivate the rear door mechanical child locks.
The button-less key1 does not have a detachable key blade. If needed, use the standard remote key's detachable key blade.
Detaching the key blade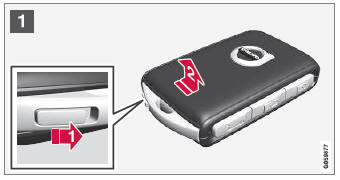 Hold the remote key with the front side (with the Volvo logo) facing up and move the button on the key ring section to the right. Slide the front cover slightly upward.
The cover will loosen and can be removed from the key.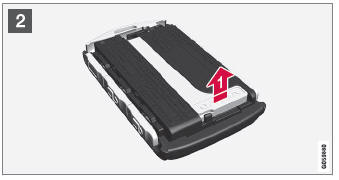 Remove the key blade by pulling it up.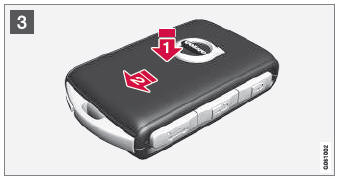 Put the key blade back into its designated spot in the remote key after use.
Replace the cover by pressing it down until it clicks into place.

Slide the cover back.

An additional click indicates that the cover is correctly in place.
1 Included in vehicles equipped with keyless locking/unlocking*.
A Care Key enables the vehicle owner to set a maximum speed limit for the vehicle. This limit is intended to promote safe use of the vehicle, e.g. when it is loaned out...
The detachable key blade can be used to unlock the vehicle from the outside, e.g. if the battery in the remote key is discharged. Unlocking Pull the front left-hand door handle to its end position to access the lock cylinder...
Other information:
A number of messages related to BLIS1 may be displayed in the instrument panel. Several examples are provided below. A An authorized Volvo workshop is recommended. B Cross Traffic Alert* A text message can be erased by briefly pressing the button in the center of the rightside steering wheel keypad...
(Option/accessory) (Depending on market, this function can be either standard or optional.) A summary of how Adaptive Cruise Control (ACC1 ) is controlled using the left-side steering wheel keypad and how the function is shown in the display. : From standby mode - activates and sets the current speed : From active mode - deactivates/puts in standby mode : Activates the function from sta..