Volvo XC90: Starting and driving / Automatic transmission symbols and messages
If a problem occurs with the transmission, a symbol and a message are displayed in the instrument panel.
CAUTION
Check the operating temperature of the transmission to help avoid damage to any of the drive system components. If there is a risk of overheating, a warning symbol will appear in the instrument panel and a text message will be displayed. Follow the recommendations given.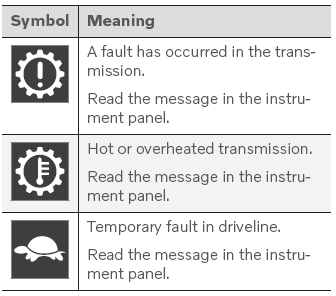 (Option/accessory.) Launch can be used to provide maximum acceleration from a standstill. The function is available for the drive modes: Dynamic, Comfort and Individual...
All-wheel drive (AWD1), also called fourwheel drive, means that power is distributed to all four wheels, which improves traction. To achieve the best traction, power is automatically directed to the wheels that have the best grip...
Other information:
Three-way catalytic converter Keep your engine properly tuned. Certain engine malfunctions, particularly involving the electrical, fuel or distributor ignition systems, may cause unusually high threeway catalytic converter temperatures. Do not continue to operate your vehicle if you detect engine misfire, noticeable loss of power or other unusual operating conditions, such as engine over..
Active Bending Lights (ABL) are designed to help provide extra illumination in curves and intersections. Depending on equipment level, vehicles with LED1 headlights* may be equipped with Active Bending Lights. Headlight pattern with function deactivated (left) and activated (right). Active Bending Lights follow the movement of the steering wheel to help provide extra illumination in curves an..