Volvo XC90: Starting and driving / Automatic transmission symbols and messages
If a problem occurs with the transmission, a symbol and a message are displayed in the instrument panel.
CAUTION
Check the operating temperature of the transmission to help avoid damage to any of the drive system components. If there is a risk of overheating, a warning symbol will appear in the instrument panel and a text message will be displayed. Follow the recommendations given.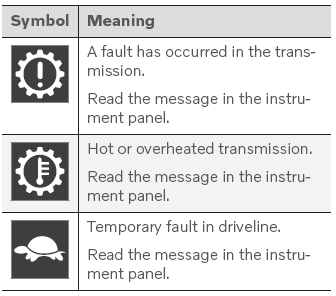 (Option/accessory.) Launch can be used to provide maximum acceleration from a standstill. The function is available for the drive modes: Dynamic, Comfort and Individual...
All-wheel drive (AWD1), also called fourwheel drive, means that power is distributed to all four wheels, which improves traction. To achieve the best traction, power is automatically directed to the wheels that have the best grip...
Other information:
The rear window washer/wiper is designed to clean the rear window. Use the right-side steering wheel lever to start and control the wiper/washer. Activating the rear window wiper/washer NOTE The rear window wiper motor is equipped with overheating protection that switches off the motor if it becomes overheated...
Volvo is committed to the well-being of its customers. As a natural part of this commitment, we care about the environment in which we all live. Concern for the environment means an everyday involvement in reducing our environmental impact. Volvo's environmental activities are based on a holistic view, which means we consider the overall environmental impact of a product throughout its complete..