Volvo XC90: Starting and driving / Automatic transmission symbols and messages
If a problem occurs with the transmission, a symbol and a message are displayed in the instrument panel.
CAUTION
Check the operating temperature of the transmission to help avoid damage to any of the drive system components. If there is a risk of overheating, a warning symbol will appear in the instrument panel and a text message will be displayed. Follow the recommendations given.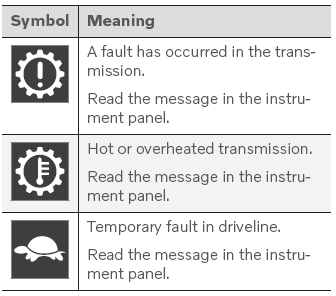 (Option/accessory.) Launch can be used to provide maximum acceleration from a standstill. The function is available for the drive modes: Dynamic, Comfort and Individual...
All-wheel drive (AWD1), also called fourwheel drive, means that power is distributed to all four wheels, which improves traction. To achieve the best traction, power is automatically directed to the wheels that have the best grip...
Other information:
Every door has a control panel for the power windows. The driver's door has controls for operating all windows and for activating the child safety locks. Driver's door control panel. Electric child safety locks* that deactivate the controls in the rear doors to prevent the doors or windows from being opened from the inside...
Function view, which is one of the center display's basic views, contains all of the vehicle's function buttons. From the Home view, navigate to Function view by swiping from left to right over the screen1. Different types of buttons There are three different types of buttons for vehicle functions; see below: Button modes When a function or parking button's LED indicator is green, the function..