Volvo XC90: Displays and voice control / Displays and controls by the driver in a left-hand drive vehicle
The overviews show the location of the vehicle's displays and controls.
Steering wheel and dashboard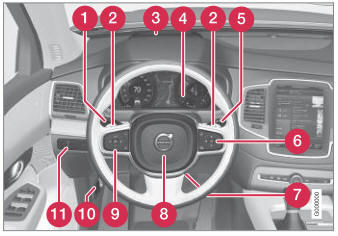 Parking lights, daytime running lights, low beams, high beams, turn signals, front fog lights/cornering illumination * , rear fog light, trip computer reset
Steering wheel paddles for manual shifting *

Head-up display *

Instrument panel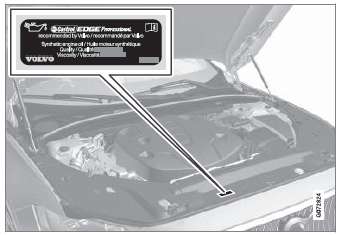 Wipers and washers, rain sensor *
Right-side steering wheel keypad

Steering wheel adjustment

Horn
Left-side steering wheel keypad

Hood open

Display lighting, tailgate unlock/open * /close * , halogen headlight height adjustment
Ceiling console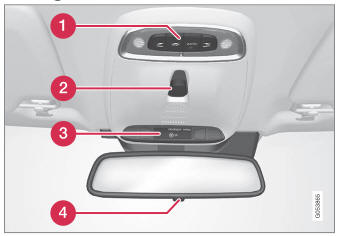 Front reading lights and courtesy lighting

Panoramic roof *

Ceiling console display ON CALL button

HomeLink®*
Center and tunnel console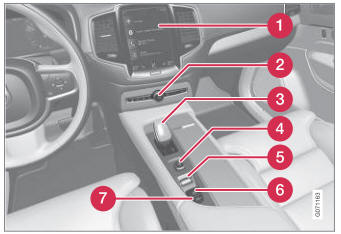 Center display

Hazard warning flashers, defrosting, media, glove compartment open

Gear selector

Start knob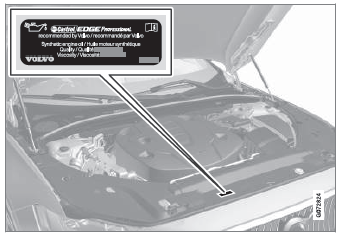 Drive modes *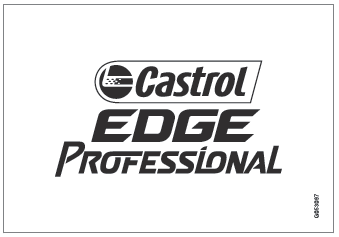 Parking brake

Auto-hold brakes
Driver's door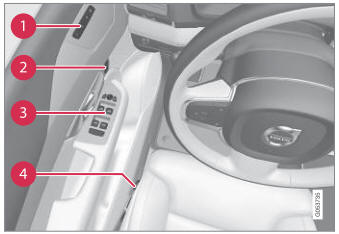 Memory for power front seat settings * , door mirrors and head-up display *

Central locking

Power windows, door mirrors, electric child locks *

Controls for front seat
* Option/accessory.
The instrument panel displays information related to the vehicle and driving. The instrument panel contains gauges, indicators and monitoring and warning symbols...
Other information:
If auto climate control is activated, several climate system functions are controlled automatically. Tap the symbol in the center of the climate bar to open Climate view in the center display. Tap or press and hold AUTO Climate/> Tap - air recirculation, air conditioning and air distribution are controlled automatically...
(Option/accessory.) (100Warning for crossing traffic when the vehicle is backing up.) A number of messages related to Cross Traffic Alert (CTA) may be displayed in the instrument panel. Several examples are provided below. A An authorized Volvo workshop is recommended...