Volvo XC90: Specifications / Engine oil specifications
Engine oil of type VCC RBS0-2AE 0W-20 must be used. Lower oil grades may not offer the same fuel economy, engine performance or engine protection.
Volvo recommends: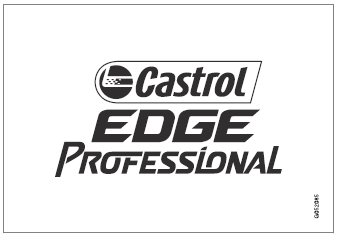 General
See the Service and warranty booklet for information about oil change intervals.
NOTE
This vehicle is delivered from the factory with synthetic oil.
Do not use oil additives.
Oil viscosity
The wrong oil viscosity can shorten engine service life during normal use.
VCC RBS0-2AE 0W-20 provides good fuel economy and engine protection. See the viscosity chart.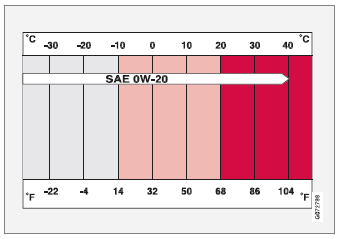 Viscosity chart
Oil volume
Engine oil volumes (including oil filter) are shown in the table.

Engine specifications (output, etc.) for each engine variant are shown in the table below. The specifications for Special Edition vehicles may vary. NOTE Not all engines are available on all markets...
Under normal driving conditions, the transmission fluid will not need to be changed during the transmission's service life. However, it may need to be changed if the vehicle is driven frequently in adverse driving conditions...
Other information:
(Option/accessory.) Here are some useful tips for when you use CarPlay®1. Update your iOS device with the latest version of the iOS operating system and ensure that the apps have been updated. In the event of a problem with CarPlay, unplug the iOS device from the USB port and then plug it in again...
(Option/accessory.) With the keyless locking and unlocking function, the remote key only needs to be within range, e.g. in a pocket or bag. The vehicle can then be locked or unlocked by touching the pressure-sensitive surface on the door handle. Pressure-sensitive surfaces Door handle There are indentations on the outside of the outer door handles for locking, and pressuresensitive surfaces on ..