Volvo XC90: Specifications / Engine oil specifications
Engine oil of type VCC RBS0-2AE 0W-20 must be used. Lower oil grades may not offer the same fuel economy, engine performance or engine protection.
Volvo recommends: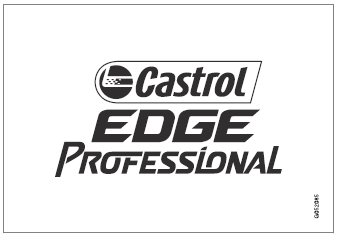 General
See the Service and warranty booklet for information about oil change intervals.
NOTE
This vehicle is delivered from the factory with synthetic oil.
Do not use oil additives.
Oil viscosity
The wrong oil viscosity can shorten engine service life during normal use.
VCC RBS0-2AE 0W-20 provides good fuel economy and engine protection. See the viscosity chart.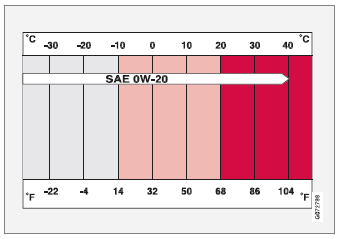 Viscosity chart
Oil volume
Engine oil volumes (including oil filter) are shown in the table.

Engine specifications (output, etc.) for each engine variant are shown in the table below. The specifications for Special Edition vehicles may vary. NOTE Not all engines are available on all markets...
Under normal driving conditions, the transmission fluid will not need to be changed during the transmission's service life. However, it may need to be changed if the vehicle is driven frequently in adverse driving conditions...
Other information:
(Option/accessory.) Volvo recommends the use of Volvo towbars that are specially designed for the vehicle. NOTE The optional detachable trailer hitch may not be available in all markets or on all models. Consult your Volvo retailer. Ball holder Cotter pin Towbar assembly Locking bolt Safety wire attachment bracket Installing the ball holder If necessary, remove the cotter pin from the lo..
(Option/accessory) The materials used in the passenger compartment and air filtering system have been selected to ensure a high level of air quality in the passenger compartment. Materials used in the passenger compartment The materials in the passenger compartment are designed to be pleasant and comfortable, even for people with asthma or allergies. The materials have been developed and tested ..