Volvo XC90: Specifications / Engine oil specifications
Engine oil of type VCC RBS0-2AE 0W-20 must be used. Lower oil grades may not offer the same fuel economy, engine performance or engine protection.
Volvo recommends: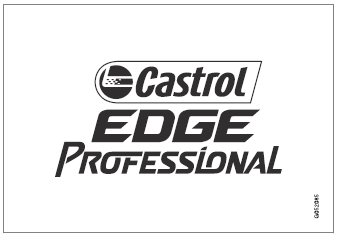 General
See the Service and warranty booklet for information about oil change intervals.
NOTE
This vehicle is delivered from the factory with synthetic oil.
Do not use oil additives.
Oil viscosity
The wrong oil viscosity can shorten engine service life during normal use.
VCC RBS0-2AE 0W-20 provides good fuel economy and engine protection. See the viscosity chart.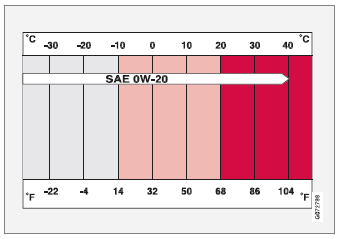 Viscosity chart
Oil volume
Engine oil volumes (including oil filter) are shown in the table.

Engine specifications (output, etc.) for each engine variant are shown in the table below. The specifications for Special Edition vehicles may vary. NOTE Not all engines are available on all markets...
Under normal driving conditions, the transmission fluid will not need to be changed during the transmission's service life. However, it may need to be changed if the vehicle is driven frequently in adverse driving conditions...
Other information:
Indicator and warning symbols alert the driver that a function is active, that a symbol is working, or that an error or serious fault has occurred. Red symbols A Canadian models. B US models. Amber symbols Blue symbols Green symbols White/gray symbols ..
The remote key can be used to unlock the tailgate while keeping the rest of the vehicle locked. Press the button on the remote key. The tailgate will be unlocked but remain closed.The side doors remain locked and armed. The lock and alarm indicator on the dashboard will go out to indicate that the vehicle is no longer fully locked. Press lightly on the rubberized pressure plate un..