Volvo XC90: Displays and voice control / Handling messages saved from the center display
Messages saved from the instrument panel and center displays are handled in the center display.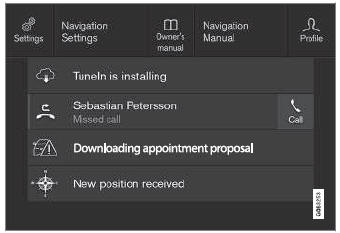 Examples of saved messages and possible selections in Top view.
Messages that have been shown in the center display and that need to be saved are stored in the center display's Top view.
Reading saved messages
Open Top view in the center display.

A list of saved messages will be displayed. Messages with an arrow to the right can be expanded.

Tap a message to expand/minimize it.

More information about the message will appear in the list and the image to the left of the app will display information about the message in graphic form.
Handling saved messages
Some messages have a button to e.g. activate/ deactivate a function related to the message.
Tap the button to perform the action.
Saved messages in Top view are automatically deleted when the ignition is switched off.