Volvo XC90: Wheels and tires / Handling the spare wheel
(Not available on all models.)
Follow these instructions regarding handling the spare wheel.
Accessing the spare wheel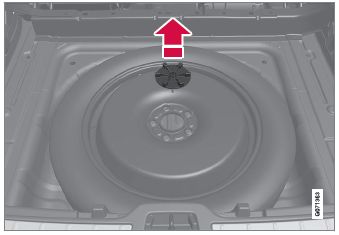 This illustration is generic and appearance may vary.
The spare tire is located in the spare wheel well under the cargo compartment with the outside of the wheel facing downward. The spare tire is secured with a bolt that goes through the tire and attaches it to the body. The foam block contains all tools needed to change a wheel.
Lift the rear edge of the cargo compartment floor.
Unscrew the retaining bolt.
Lift out the spare wheel.